Cycling places to spread message of peace
Rajay Deep
Tribune News Service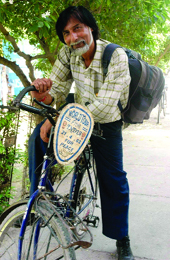 Ram Chandra Biswas was in Bathinda on Tuesday.Tribune photo:Pawan Sharma
Bathinda, August 19
Carrying hundreds of news clippings, certificates, a huge passport bearing testimony of his visit to 156 countries, Ram Chandra Biswas (56) of Kolkata has been riding bicycle for about 27 years. His mission is to spread a message of peace and brotherhood across the globe.
Biswas set off on his journey on April 21, 1982. Indira Gandhi, the then Prime Minister of India, had flagged off his journey.
Reaching Bathinda on Tuesday, he produced a huge pile of documents that makes one believe that he has covered over 6,06,500 km through 156 countries and 2,291 cities, including the South and North poles, America (South, Central and North), Africa, East and West Europe, many states of Russia, Greenland, Siberia, Caribbean island, Alaska, all Pacific islands and Australia.
Biswas, who did not marry, stated that earlier, he worked as a postman in Kolkata and then joined a publication house as a painter. "One day, I met a hermit and realised that I was just wasting my life doing routine work only. He inspired me to undertake a task that would give some meaning to my being. I pondered over his words and adopted this mission — appealing all for peace."
"A bicycle, a dollar, a flight ticket and a language to communicate was what I had when I set off. Indira Gandhi had asked me how I would survive. I showed her the dollar and assured her that I would not beg in any country, in any situation. I have kept my words to this day and would do so in future too," said Biswas.
The traveller feels satisfied telling that he knew 10 languages. He changed two bicycles while cycling lakhs of miles.
He has kept the two bicycles, thousands of documents, photographs with all eminent personalities of the world, mementos and daily diaries in his museum at his house in Kolkata. "I will die but my museum will not," he says.
"I have boarded almost every ship, airplane and car but never paid a single penny outside India. It is only here that I have to pay even for accommodation. In our country, brotherhood is at stake. But I am on a mission and for that I have been travelling even in villages," he added.