Assembly session was marred by controversies
Srinagar, September 2
The maiden Budget session of the NC-Congress government in the 'jinxed' new Assembly complex, which concluded after 36 days in the summer capital today, has been an arduous task for both ruling and opposition parties.
Upper House adjourned sine die
Srinagar, September 2
Arvinder Singh Micky, Deputy Chairman of the State Legislative Council, adjourned the current Budget session of the Council sine die today, a day after the Legislative Assembly was adjourned.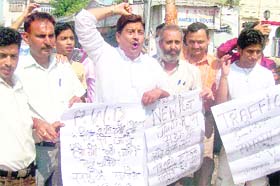 Activists of the Jammu West Assembly protest against the bad condition of roads in Jammu on Wednesday. Tribune photo: Anand Sharma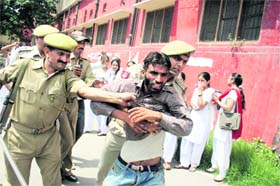 Policemen arrest a protester from Girls College in Jammu on Wednesday. College students have been protesting in support of the proposed central university for the past few weeks. Photo: Inderjeet Singh
Loss of study due to varsity stir
Colleges reduce lecture duration by 10 minutes
Jammu, September 2
A number of colleges in the city have found a unique way of minimising the loss of lectures due to the ongoing agitation over the central university issue. Colleges have reduced the duration of a lecture to 30 minutes from 40 minutes, besides starting colleges at 8 am.
Andolan Samiti flays lathicharge on students
Jammu, September 2
Even as the coalition government hasn't come clean over the issue of the proposed central university, the Central University Andolan Samiti (CUAS) today strongly condemned the police lathicharge on students, in which a student of class IX was seriously injured at Akhnoor.
JDA refuses to give land to rehriwalas
Jammu, September 2
GA Qureshi, vice-chairman of the Jammu Development Authority (JDA), has refused to give land to rehriwalas, who have been demanding land as per a letter of the former vice-chairman of the JDA dated November 14, 2008. The letter reportedly promised them a one-feet high and 78-feet long cemented platform to run their businesses, near the ERA nullah at Trikuta Nagar.
Haj flights likely from Oct 22
Srinagar, September 2
The Haj flights for carrying the pilgrims from here are likely to start from October 22. Minister for R&B GM Saroori and Minister of State for Haj and Auqaf (independent charge) Aijaz Ahmad Khan said this during their visit to the Haj House to take stock of the existing facilities available in the complex for the convenience of the Haj pilgrims here today.
Truce Violation
Army lodges protest with Pakistan
Jammu, September 2
India today lodged a strong protest with Pakistan over the ceasefire violation by its troops who fired on a post along the LoC, killing a jawan in Poonch district.
MC removes encroachments
Jammu, September 2
The Jammu Municipal Corporation today removed encroachments made by shopkeepers by keeping their goods in front of their shops by encroaching upon pavements and footpaths in different areas.
Petrol, diesel to cost more
Jammu, September 2
After the state government proposed to increase the prices of petroleum products in Jammu and Kashmir, the petrol in the state has become dearer by Rs 2 whereas diesel would cost Rs 1 more.
Anti-tobacco advocacy kit released
Srinagar, September 2
Assembly Speaker Mohammad Akbar Lone released an anti-tobacco advocacy kit prepared by the J&K Voluntary Healthy Association (VHA) here today.
Protest over delay in results
Jammu, September 2
The Progressive Students Association (PSA) today held a protest in front of the Examination Wing of Jammu University and demanded immediate announcement of results of BA, BSc and BCom (first and final year).
Thieves decamp with jewellery, cash
Jammu, September 2
Thieves struck in a house in Kathua this afternoon and decamped with gold jewellery and some cash. Official sources said at the time of theft Daya Ram Sharma, owner of the house, and his wife, both teachers by profession, had gone to their schools.
PDP rues ration shortage
Udhampur, September 2
Senior PDP leader Shakir Saddique has expressed concern over the shortage of essential commodities, especially ration in Kishtwar district.