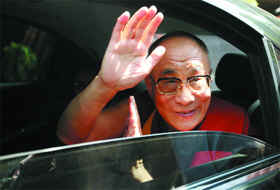 Tibetan spiritual leader the Dalai Lama at Kamla Nehru College in New Delhi on Monday. He addressed the college students and talked about 'power of non-violence in the age of violence'. Tribune photo: Mukesh Aggarwal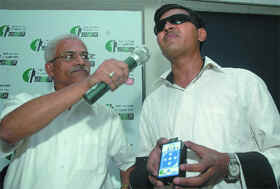 Shirish Darwhekar from Shaksham and a visually impaired student launch the first Audio Book Reader in New Delhi on Monday. The Audio Book Reader is a pocket-sized device developed by Shaksham for enabling visually impaired students to study with much more ease. Tribune photo: Mukesh Aggarwal

Gujjar, Meo candidates likely in Sohna
Gurgaon, September 7
With the implementation of the delimitation order, Gurgaon and Sohna Assembly constituencies have changed considerably in terms of caste and community calculations.
Killer of traders' body president nabbed
New Delhi, September 7
The Delhi police has claimed to have solved the murder of the president of traders' association in the Dadri area of Uttar Pradesh last week with the arrest of a high profile contract killer, an official said on Monday.
Power bills high due to changed consumption pattern: BSES
New Delhi, September 7
Power distribution company BSES, while giving clarification on hefty power bills received by south and central Delhi residents, today maintained it was only the change in the pattern of power consumption of people that had lead to the increase in the bills.
DJB explains 'erratic' water supply in Shahdara
New Delhi, September 7
Shahdara in east Delhi has not been receiving water supply for close to three months as the locality comes at the tail end of a supply line, authorities explained before the Delhi High Court today.
198 govt schools to get facelift
New Delhi, September 7
Chief Minister Sheila Dikshit today said that 198 Delhi government schools would get a new look and well-equipped infrastructure. The work would be done within a stipulated time of two years, she added.
Games 2010
Projects will be completed in time: CM
New Delhi, September 7
Chief Minister Sheila Dikshit today reiterated all Commonwealth Games related projects would be completed as per schedule and well before time. She claimed this at Thyagraj Stadium where she had gone to inspect the construction work.

Cong begins shortlisting applicants for poll ticket in Faridabad
Faridabad, September 7
The All India Congress Committee (AICC) began the process of shortlisting applicants for party ticket from assembly segments in Faridabad. The exercise of shortlisting candidates would be completed in two days.
4 robbers who assaulted constable arrested
New Delhi, September 7 The south district police has busted a gang of dreaded robbers who were involved in the recent robbery case in which they attacked a patrolling constable on Ring Road adjacent to Safdarjung Hospital. The constable was attacked when he tried to foil the robbery.
4 lives lost in road accidents
Greater Noida, September 7
A student was killed in an accident in the Surajpur area on Sunday, while three others died on Saturday in three different accidents.
Smuggler held with 22-kg charas
New Delhi, September 7
The Delhi police has arrested a man with 22 kg charas smuggled from Nepal via Raxol through train. It was learnt that the accused Anil Vishwas living in Sarai Kale Khan was smuggling some narcotics by train.
Man stabbed in road rage
New Delhi, September 7
A 27-year-old man was allegedly killed by a group of people here during a heated argument following a minor road accident, the police said on Sunday.
Newborn girl found abandoned
Noida, September 7
A two-day-old girl was found abandoned in a forested area here on Monday, the police said.
Aspirants protest after channel cancels audition
New Delhi, September 7
People protested and raised slogans against a TV channel on Monday when it cancelled auditions for one of its music programmes, the police said.