Dak sevaks seek revision of wages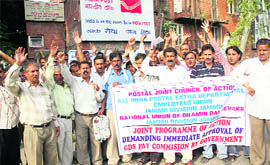 Jammu, September 15
The Gramin Dak Sevakas (GDS) of the Department of Posts today held a protest outside the office of the chief postmaster general, Jammu and Kashmir, demanding revision of their wages as per the recommendations of the sixth pay commission.

Employees of the Department of Posts hold a protest in Jammu on Tuesday. Tribune photo: Anand Sharma

Countering Pak propaganda
Prasar Bharti to install more towers in border areas
Rajouri, September 15
To counter the anti-India propaganda by the Pakistani radio and television, Prasar Bharti has planned to install more towers in the border areas of the state, including Rajouri and Poonch districts, to improve its reach in these areas.
Development works reviewed
Jammu, September 15
Minister for Revenue and Relief Raman Bhalla today visited Bhatindi and Narwal Bala and inspected ongoing development works of tubewells and upgradation of roads by the Economic Reconstruction Agency (ERA).
Ladakh festival ends
Srinagar, September 15
The 15-day annual Ladakh Festival concluded at Polo Ground in Leh with a scintillating closing ceremony this afternoon. Governor NN Vohra was the chief guest on the occasion.
Three docs suspended
Srinagar, September 15
Sakina Ittoo, Minister for Social Welfare, paid a surprise visit to the Sub-District Hospital, Damhal Hanjipora, on Tuesday. She found three dental surgeons absent from duty and ordered their suspension. The doctors found absent are Dr Tariq Rashid, Dr Javaida and Dr Maqsooda. — TNS
SC students protest
Rajouri, September 15
Students of Government Postgraduate Degree College, Rajouri, belonging to the Scheduled Castes (SC) and the Scheduled Tribes
Doda district to get Rs 45.9 cr
Jammu, September 15
Chief Minister Omar Abdullah today approved an annual plan outlay of Rs 45.9 crore for Doda district this year, which is a hike of 15 per cent on the plan outlay of last financial year.
30 pilgrims hurt
Udhampur,September 15
At least 30 persons were injured, nine of them seriously, when a mini-bus overturned on the Pouni-Reasi road today.
Sports meet opens
Jammu, September 15
Deputy Chief Minister Tara Chand has said that the coalition government is keen on providing all facilities to enable youth to develop their potential in sports.
Thief held with 1,700 kg iron plates
Jammu, September 15
The police today arrested an Army deserter-turned interstate thief from the Narwal area while he was trying to sell stolen iron shuttering plates weighing 1,700 kg.
Handicrafts Corp officials booked
Srinagar, September 15
The State Vigilance Organisation (SVO) has registered a case under the Prevention of Corruption Act against officials of the J&K Handicrafts Corporation for the alleged fraudulent withdrawal of Rs 39 lakh on forged bills and other documents regarding participation in the Carpet Oasis Fair in Dubai that did not take place.
Man stabs kin to death
Jammu, September 15
A man stabbed his cousin to death over a dispute in Gorkha Nagar here yesterday.
Murder accused held
Jammu, September 15
The police has arrested the main accused in the murder of a 45-year old man in Sayal Jagir village of Sidhra on the outskirts of the city.
Fire breaks out in factory
Jammu, September 15
A fire broke out in a factory in the Bari-Brahmana area today. Sources said a fire broke out in Jain Industries, that manufactures pre-fabricated shutters, in the Bari Brahmana area this evening.