Archers for national tourney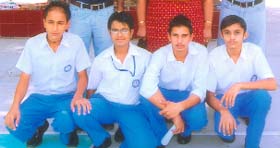 Budding archers of LRS DAV Senior Secondary School, selected for participation in the Mahatma Hans Raj National Tournament to be held in Patna. Photo by writer
DSP, SHO awarded jail term
Bathinda, September 30
A deputy superintendent of police (DSP) and a station house officer (SHO), who were booked about eight years back for helping an NRI (accused of bigamy) to escape to the US, were today awarded two years of imprisonment with a fine of Rs 8,000 by the sessions court, Faridkot.
Anti-encroachment drive in Muktsar
Muktsar, September 30
Acting on complaints by irate residents, the local Municipal Council launched a concerted drive to get rid of illegal encroachments, which, for long, were considered to be bottlenecks in the smooth flow of traffic in the city.
Farmers apprehensive as disease afflicts cotton crop
Mansa, September 30
Cotton growers have been on the losing side reportedly doe to non-procurement of cotton by government agencies and Jhulse disease, which has badly affected the cotton crop resulting in low production.
Bridge construction leads to chaos
Fazilka, September 30
There is total chaos in the main bazaars of Fazilka town these days. The main reason behind this is the railway crossing on Ferozepur road that has reportedly been closed due to the construction of road over bridge, which is in progress now-a-days.
3 drug peddlers held
Ferozepur, September 30
The Ferozepur police arrested three inter-state drug peddlers and seized nine kg opium from their possession. Addressing the media persons here today, SPS Parmar, SSP, said the arrested smugglers have been identified as Raj Kumar, son of Devi Lal, Jagdish Kumar, son of Karam Chand and Naresh Kumar, son of Rajpal, all of whom were residents of Rajasthan.
Jakhar's plea on VETM
Abohar, September 30
The Punjab government is gearing up to follow the Maharashtra pattern for launching some projects under the Vegetable Export Trade Mission (VETM) but the exercise will prove beneficial to the vegetable and fruit growers only if the government judiciously evaluates why its previous projects had fallen flat, said legislator Sunil Jakhar, a progressive farmer, who had served as parliamentary secretary for irrigation and horticulture in the last Congress led government.
IKSL launches mobile services
Abohar, September 30
The IFFCO Kisan Sanchar Ltd (IKSL) that had launched mobile services in collaboration with the Airtel, is confident of overcoming the equipment related problems being faced by the rural based consumers soon, claimed KL Chawla, project manager from Delhi-based headquarters.
Uranium in water
Pollution control board told to upgrade tools
Bathinda, September 30
The Pollution Control Board was directed to upgrade the pollution control instruments meant for groundwater at the scheduled hearing of the Punjab Human Rights Commission (PSHRC) regarding the presence of uranium in Bathinda took place today at Chandigarh.
BKU activists hurt in clash with SAD men
Bathinda, September 30
Five persons sustained severe injuries in a bloody clash that took place between Bharati Kisan Union (Krantikari) and some followers of a senior SAD (B) leader at Sadhana village, here today.
Punjab sees rise in infrastructure but female literacy rate needs boost
Bathinda, September 30
Punjab might have managed to outnumber other states in educational infrastructure but the literacy rate here still leaves much to be desired, especially the female literacy rate.
Teachers protest DGSE's policies

Bathinda, September 30
Demanding that the post of Director General of School Education (DGSE) be scrapped, hundreds of teachers held a dharna today while responding to a statewide call given by the Democratic Teachers' Front. They alleged that the DGSE's policies were affecting education in the state. The dharna was staged from 3 pm to 5:30 pm.
Members of Democratic Teachers Front (Punjab) stage a dharna in support of their demands in Bathinda on Wednesday. Tribune photo:
Pawan Sharma

Harsimrat seeks upgradation of Bathinda rly station
Bathinda, September 30
Bathinda MP Harsimrat Kaur Badal has appealed to Railway Minister Mamata Banerjee for upgrading Bathinda railway station and various facilities available on it.

Change of guard at Chetak Corps
Bathinda, September 30
Lt Gen K Surendra Nath would assume the command of the Chetak Corps from October 1. The General Officer was commissioned in 1 Mech Infantry (1 Madras) in June 1973.He is a graduate of Defence Services Command and Staff College, Dhaka, Higher Command Course, Army War College, Mhow, and National Defence College, New Delhi.