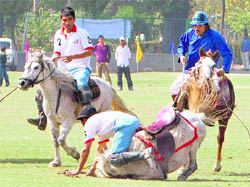 HORSING AROUND: A polo player from the Kargil team falls off his horse during a match at the two-day Kashmir festival at Sri Pratap College Ground in Srinagar on Sunday. — PTI photo
Not enough being done for cross-border trade: PoK body
Srinagar, October 11
Zulfiqar Ahmad Abbasi, president of traders' body in Pak-occupied-Kashmir, said both the governments of India and Pakistan were not sincere in making cross-border trade a success and had not fulfilled their promises.
Mirwaiz for composite talks on Kashmir
Srinagar, October 11
Hurriyat Conference chairman Mirwaiz Umar Farooq has urged the Centre to initiate a composite and meaningful dialogue process with Pakistan and Kashmir leadership for an everlasting solution to the Kashmir issue.
Create atmosphere for talks first: Geelani
Srinagar, October 11 Amidst likelihood of talks between a section of separatists and the government, hardline Hurriyat leader Syed Ali Shah Geelani sent out mixed signals regarding his stand and said the government should first create a convivial atmosphere for talks.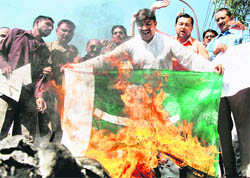 Members of the Jammu West Assembly Movement burn Pakistan's national flag during a protest against frequent cross-border firing and infiltration bids, in Jammu on Sunday. — PTI
Panun Kashmir discusses political situation
Jammu, october 11
The Panun Kashmir today held a meeting to discuss the emerging political scenario vis-a-vis the Kashmiri Pandit community. According to a statement, Dr Agnishekhar, convener PK, said the security scenario in Kashmir has deteriorated and causalities among the security forces have assumed alarming proportions.
Border residents' problems to be solved on priority
Jammu, October 11
Minister for Roads and Buildings GM Saroori has reiterated the government's resolve to solve the genuine problems of the people living in border areas. He said better road connectivity, drinking water, medicare and irrigation facilities would be provided to the border people, especially border refugees, on priority.
Through yatra, Sangh Parivar hopes to expand base in rural areas

Udhampur, October 11
To strengthen its base in rural areas of the state, the Sangh Parivar has been trying to involve more and more people in the ongoing "Gau Gram Yatra, which started from Haridwar and passing through different parts of the country reached here on Saturday. The message of the yatra is to educate people on the importance of protecting the cow.

BJP and VHP workers worship a cow in Udhampur on Sunday. A Tribune photograph
80 pc of Jammu region drought hit: Survey
Jammu, October 11
Drought has hit up to 80 per cent of the area in all the 10 districts of Jammu province and the state government has initiated the process for giving compensation to the farmers under the National Calamity Fund.
Botany, zoology students keen on clearing KAS
Jammu, October 11
Nineteen out of 23 MSc students -- nine doing M Phil and the remaining 10 students doing Phd -- have cleared the preliminary exam of the Kashmir Administrative Services (KAS) this year.
Amitabh's look-alike celebrates his birthday
Jammu, October 11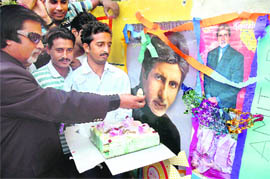 Lazy Sunday morning turned into a celebrations with the gathering of mediapersons, university students, taxi drivers and tourists outside the gate of Jammu University, who had gathered to celebrate Amitabh Bachchan's 67th birthday. The host was his look-alike and fan Surinder Kumar, a taxi driver, who has been nicknamed as Big B by people who know him.

Surinder Kumar, a taxi driver and a fan of Amitabh Bachchan, celebrates his birthday in Jammu on Sunday. Tribune photo: Anand Sharma
HC stays service tax imposed on insurance co
Jammu, October 11
Justice Mansoor Ahmad Mir of the Jammu and Kashmir High Court, while issuing notices to the Commissioner/Secretary of the Finance Department and other respondents, stayed the proceedings pending before the Commissioner, Sales Tax, in which Max Insurance Company had challenged the notice issued by the Commissioner, Sales Tax, notifying that the services provided by the insurance company to its policy holders are taxable @ 8 per cent plus surcharge @ 5 per cent on the amount of premium collected by the insurance company.
Father alleges murder, seeks justice
Udhampur, October 11
Smelling foul play in the mysterious death of his son Gurdeep Singh, who died on September 28, Jagir Singh came from Talwara, Punjab, to Ramnagar to seek justice. Though the death of Gurdeep Singh has been described as accidental by the Ramnagar police, Jagir Singh alleged that his son was murdered and later thrown on the road.
Offering a helping hand to mentally ill
Mission of Medecins Sans Frontieres has 16 counselling centres in Kashmir valley
Srinagar, October 11
While stating that 12 per cent of the world population suffers from mental disorders, Martin Sloot, Head of Mission of Medecins Sans Frontieres (MSF) - India, said 16 counselling centres were running in the Kashmir valley under their aegis.
National award winning teacher felicitated
Jammu, October 11
Love Kumar Sharma, who has been conferred with National Award for the Best Teacher from Jammu district this year, was also felicitated in a special function organised by Alumini of Light House Public School of 1984 batch at Abhinav Theatre yesterday.
Cancel permits of overloaded vehicles, says minister
Jammu, October 11
The state government has directed the officials of the Traffic Department to cancel the route permits of the mini-buses not sticking to the timetable and against those vehicles which resort to overloading.
Mazdoor Conference seeks special financial package
Jammu, October 11
The National Mazdoor Conference (NMC) has appealed to Union Finance Minister Pranab Mukherjee to provide a special financial package of Rs 8,000 crore for complete funding of the expenditures for the implementation of the 6th Pay Commission recommendations.