TREND MILL
FUN washrooms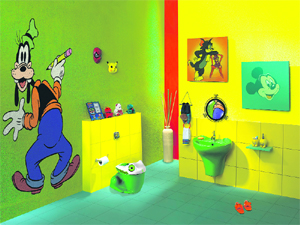 FACED with the universal challenge to make kids enter the bathroom for a bath? Since staying dirty is usually not an option, consider remodelling your bathroom to help make the process easier on everyone. Soon, the daily duel could soon be a thing of the past and your child could be excitedly dragging you to the bathroom for a splash! Bathrooms are spaces typically designed for adults. Dull colors and hard-to-reach areas can make the bathroom less attractive and accessible. Key things to remember when designing children's bathrooms are safety, having fun, accessibility and storage.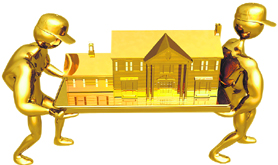 GROUND REALTY
Happy building!
Don't let construction of your dream home turn into a nightmare. JAGVIR GOYAL lists some thumb rules to help you arrive at fair estimates of quantities of materials
YOU started construction of your dream house with stars in your eyes, searching high and low for the best architect with the perfect design, the finest wood and luxury marble… but six months into construction and you can't wait for it to get over!
TAX TIPS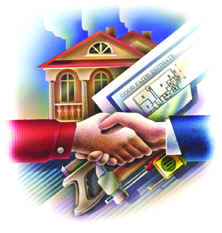 Capital gain to be taxable in 2012-13
Q. I sold shares in a private limited company on August 8, 2008 for Rs 9 lakh (cost of acquisition Rs 1 lakh in May 1984). I own a residential house. The entire amount of Rs 9 lakh was deposited under capital gain scheme in March 2009 i.e. before the date of filing the return with the intention of buying a residential house. I have now acquired a residential house in a town in Haryana for a sum of Rs 6.4 lakh. Please let me know the amount of capital gain on sale of shares as well as that chargeable for assessment year 2010-11 (i.e. previous year 31.03.2010), the treatment of unutilised amount and when can I withdraw the same?
Demand for office space rises by 19 pc
Plummets by 30 per cent in NCR region
VACANT office spaces have seen demand for them rise by 19 per cent during the last quarter amid signs of economic recovery, although the same weakened in the National Capital Region on hopes of a further drop in rentals, a report has said. According to a latest report by global realty consultant Cushman & Wakefield (C&W), the average demand in India's eight major cities rose by 19 per cent at 6.7 million sq ft during July-September period over the previous quarter. "Bangalore witnessed the highest demand in the quarter with 2.3 million sq ft followed by Mumbai at 1.2 million sq ft and Chennai at 0.98 million sq ft," C&W said. However, demand in the NCR region was down by 30 per cent at 0.66 million sq ft from the previous quarter, it added.