Land revenue records to be computerised
Morinda, November 14
The entire land revenue record of the Morinda tehsil would be computerised by December 20.
5 shops gutted, goods worth lakhs destroyed
Kharar, November 14
Five shops were gutted after a major fire broke out at Landran chowk late last night.
Mystery shrouds man's death
Kharar, November 14
A resident of Jhanjheri village was found dead under mysterious circumstances here today.
Labourer electrocuted
Kharar, November 14
A labourer was electrocuted while working at a construction site in a residential area near Chappar Chiri village today.
5 booked for dowry
Kharar, November 14
The in-laws of Rajwinder Kaur, a resident of Halle Majra have been booked for demanding dowry. In her complaint to the police, Rajwinder stated that she got married to Gurvidner Singh, a resident of Rasanheri village, on October 18, 2008. She alleged that after around a month of the marriage, her in-laws started harassing her for dowry.
Truck driver held for fraud
Kharar, November 14
The police has booked a case of fraud against a truck driver, Sukhdev Singh, on the basis of the complaint lodged by the excise and taxation official deployed at the Balongi sales tax barrier.
Annual day at Sukhmani school
Dera Bassi, November 14
Sukhmani International School celebrated its annual day, "Samarpan-09", on the Children's Day here today on its school premises.
2 bank officials, 3 others booked for fraud
Dera Bassi, November 14
The local police today booked the chief manager of the State Bank of India, Sector 17, Chandigarh; manager, specialised commercial branch, State Bank of India, Sector 17, Chandigarh; Rohit Singh, managing director, Shipra Estate Limited, Delhi; Rajiv Johri, manager finance, Shipra Estate Limited, Sector 17, Chandigarh, and Rajinder Singh, a resident of Sangrur, in a case of fraud.
7-wkt win for Black Elephant
Patiala, November 14
Black Elephant Cricket Club, Patiala, defeated Chandigarh Cricket Academy by seven wickets in the three-match series of SJS Hayer Memorial Trophy at Military Ground here today. After winning the toss, Chandigarh boys scored 98 runs before being bowled out in 40 over match.


Lawyer can't be officer of employers' body
Chandigarh, November 14
A legal practitioner can neither be an officer, nor a member, of an association of employers.
Jindal remanded in police custody
Chandigarh, November 14
A local court today remanded Navdeep Jindal, owner of Jindal Associates, in judicial custody. Earlier he was remanded in police custody for two days and one day separately.
CBI court orders reopening of graft case
Chandigarh, November 14
The CBI special court today ordered reopening of the case pertaining to corruption charges on Col (retiredd) ML Sodhi, dating back to 1997.
Samsung fined Rs 500
Chandigarh, November 14
The District Consumer Disputes Redressal Forum has directed Samsung to pay a compensation of Rs 500 for deficiency in service and using unfair trade practice.
Lok adalat on Dec 19
Chandigarh, November 14
A Lok adalat will be held on December 19 at the District Courts.


NPS humiliate DAV 28-5
Chandigarh, November 14
Strong contenders and hosts New Public School, Sector 18, routed DAV School, Sector 15, by 28-5 in a virtually one-sided match in the girls' section. They were playing in the Shanta H. Singh Basketball Tournament at the NPS courts in Sector 18 here today.
90 NRI entries for Golfing Tour
Chandigarh, November 14
Ninety Non-Resident Indians, including 50 from the USA, have confirmed participation in the fifth Chandigarh Junior Golfing Tour to be held on the greens of Chandigarh, Panchkula and Chandi Mandir from December 18 to 20.
Little Angels School script victories
Mohali, November 14
Little Angels School, Sonepat, won the singles and doubles matches by defeating Modern School, Kota, 2-0 in the league match of 18th CBSE National Badminton Championship being held at Shivalik Public School here today.
Bal Bharti down Desh Prem academy
Chandigarh, November 14
Bal Bharti School Academy of New Delhi defeated Desh Prem Azad Cricket Academy by four wickets in the three-team cricket series on the LIC ground, Sector 26, here today.
Thumping win for GMHS-42
Chandigarh, November 14
Government Model High School, Sector 42, drubbed Dhudial Khalsa Senior Secondary School (3-0) in the 38th ATS Nehru Junior Hockey Tournament at the Sector 42 Hockey Stadium here today.
Delhi lads shine in roller skating
Chandigarh, November 14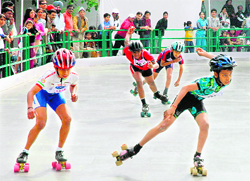 Fourteen students of Delhi School won the first position in various categories on the second day of eighth CBSE National Roller Skating Championship-2009 held at KB DAV School, Sector-7, here today. None of the local boys or girls could make it to the winners list of road race (inline).



Players in action during the roller skating championship at KBDAV School, Sector 7, Chandigarh, on Saturday. Tribune photo: Manoj Mahajan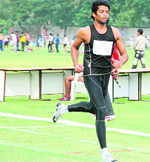 Avinash finds his 'track'
Chandigarh, November 14
When dreams gather momentum, the difference between the imaginary and the real becomes a passing blur. Or so it seems is what Avinash Mishra of DAV School, Sector 15, has made life to be.

The athlete inside Avinash had found its calling on the track, and when he was selected for the AFI Junior National Athletic championship at Warangal from November 17 to 21, he knew that his time was coming. "It felt great to be moving up the ladder, and getting a chance to go in front of people at the national stage.