PUNJAB
HARYANA
JAMMU & KASHMIR
HIMACHAL
REGIONAL BRIEFS
NATION
OPINIONS
LETTERS
BUSINESS
SPORTS
WORLD
Rehabilitation Scheme
Govt hasn't fulfilled promises: Van Gujjars
Haridwar, December 11
Even though the rehabilitation of Van Gujjars is an important issue and the government is quite sensitive towards their rehabilitation process, yet Van Gujjars complain that till date there are hundreds of families which have not got the benefits of the rehabilitation scheme.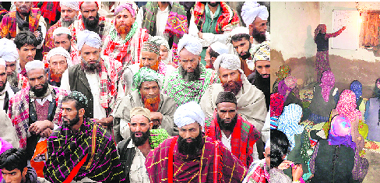 Van Gujjar living in Rajaji Park area during an agitation; and (right) an adult literacy class for women being conducted in Mori block of Uttarkashi district. Tribune photographs
Literacy programme for women begins
Dehradun, December 11
After successfully imparting literacy lessons among Gujjars, the nomadic tribesmen who inhabit the Shivaliks, the Rural Litigation and Entitlement Kendra (RLEK) has started another innovative literacy programme called Juvaad for women in four districts of Uttarakhand.
Sidhu: There's no stopping Team India
December 11, 2009
Uttarakhand's exclusive souvenirs remain elusive
December 10, 2009
IOA pours cold water on SAF Winter Games
December 9, 2009
Post ban, 50,000 may face livelihood challenges
December 8, 2009
Productive forests: U'khand second only to Arunachal
December 7, 2009
Travel in style in luxury city buses
December 6, 2009
Mid-Himalayas feel heat of global warming
December 5, 2009
Disability no curse: Alva
Decmber 4, 2009
U'khand green cover up 60 sq km
December 3, 2009
Only awareness can help control AIDS spread: CM
December 2, 2009