Lone's disclosure 'exposes real face of separatists'
Jammu, December 18
Taking serious note of startling disclosure made by Hurriyat leader Bilal Lone that he along with other separatist and Kashmiri leaders of the valley are being paid by both India and Pakistan, the Jammu State Morcha-Progressive (JSM-P) today demanded a white paper on total amount paid to the separatist leaders by the Centre.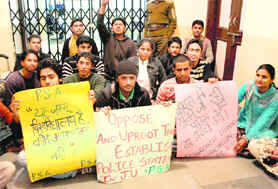 Police Post on Varsity Campus
Students hold protests
Jammu, December 18
The Progressive Students Association (PSA), All-JK Pahari Youth Forum (AJKPYF) and the Jammu Joint Students Federation (JJSF) today held protest demonstrations against the opening up of a police post inside the University of Jammu.
Members of the Progressive Students Association protest against the move to set up a police post on the University of Jammu campus on Friday. A Tribune photograph

Geology dept organises science camp
Jammu, December 18
The Postgraduation Department of Geology organised a five-day science camp/innovation in science pursuit for inspired research (INSPIRE) programme for students of Jammu division here.
Security forces rescue 57 stranded passengers
Srinagar, December 18
The Army and the BSF have rescued at least 57 passengers, who got stranded on the Chowkibal-Tangdhar and Bandipore-Gurez roads in north Kashmir due to bad weather conditions and snowfall along the high mountain roads, during the last couple of days.
Antony's remarks on withdrawal of troops flayed
Jammu, December 18
The announcement by Defence Minister A K Antony in Parliament about the withdrawal of troops from Jammu and Kashmir has evoked strong reaction from various political parties. The BJP and other organisations of the Sangh Parivar have announced to hold protest demonstrations in all tehsil and district headquarters in Doda district.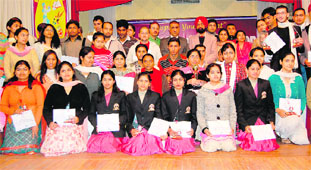 Winners of 'Display Your Talent' awarded
Jammu, December 18
The winners of "Display Your Talent 2009-10" were given prizes at a function held at the Brig Rajinder Singh Auditorium of Jammu University here today.
Students at the prize distribution function of "Display Your Talent Competition" in Jammu on Friday. Photo: Inderjeet Singh

1 killed, 24 hurt as bus overturns
Jammu, December 18
One person was killed and 24 others were injured, some of them seriously, when a rashly-driven passenger bus skidded off the road and overturned near the Thein Dam in Basohli tehsil of Kathua district, 120 km from here, today. The accident occurred when the bus driver was negotiating a sharp bend near the Kaio nullah, 1 km from the dam. The vehicle was on its way from Sawar village to Kathua.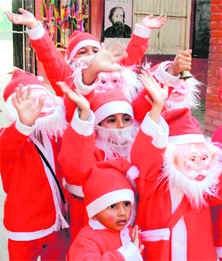 Children dressed as Santa Claus during a function in connection with the Xmas celebrations at Alexandra School in Jammu on Friday. Photo: Inderjeet Singh

NCP backs farm technocrats' stir
Jammu, December 18
Former minister and state president of the Nationalist Congress Party (NCP) Randhir Singh has supported the ongoing stir of agricultural technocrats and announced that he would take up the matter with Union Agriculture Minister Sharad Pawar for an early solution. Singh who visited the dharna of agitating agricultural technocrats, regretted the state government had failed to utilise their services by which the government could bring a green revolution in Jammu and Kashmir. He appealed to Chief Minister Omar Abdullah to declare the state a herbal one.
MPs demand more flights to Kargil
Jammu, December 18
Members of Parliament (MPs) from the state have demanded an increase in the number of air flights to Kargil by the Indian Air Force due to sudden blockage of roads by snow.
Five CRPF men hurt in grenade attack
Srinagar, December 18
Five CRPF personnel were injured in a grenade attack by militants in Sopore township of Baramulla district today, officials said.
Medico dies of brain haemorrhage
Jammu, December 18
Dr Mandeep Singh, son of Dr Rajinder Singh, principal of the Government Medical College and Hospital (GMCH) and renowned chest specialist, died of brain haemorrhage here this morning.
Six of family injured in cylinder blast
Jammu, December 18
Six persons of a family, including a minor boy, were injured after a LPG cylinder exploded in a house at Khori Sarrore village of Kishtwar today.