Townships Trend-II
Realty stronghold

When acquiring property in any city becomes difficult the potential of smaller townships around is put to test. The same appears to be the case with Kharar. After Panchkula and Mohali, Kharar seems to be on its way to becoming a major residential option.

A huge number of residential units are coming up in townships in Kharar Tribune photo: Vicky Gharu
Miles to go…
Sandeep Goel
A lot is being expected from the much-publicised announcement of the clearance given to setting up of an industrial belt in Mullanpur, near Chandigarh. The area has been projected as the destination of future due to its proximity to Chandigarh, Punjab as well as Himachal Pradesh.
TAX TIPS
S.C. Vasudeva
lInvesting capital gain
lCouple calculations
lHUF income and tax rebate
GROUND REALTY
On firm footing
Jagvir Goyal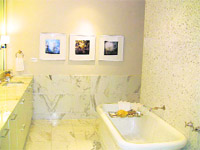 Slipping on the wet bathroom floor is something everyone fears the most as it can cause grievous injuries. That's why people are always on the lookout for a bathroom floor that is not slippery when wet or soapy.Three types of bathroom flooring options are prevalent — marble, tiles and terrazzo flooring. While teraazo flooring with skirting was popular in the 1970s, marble was the preferred choice in 1980s. These days tile flooring is the most popular choice. However, the problem of having wet and slippery bathroom floors still troubles many of us.
DESIGN TRENDS
Stamp of individuality
Sharmila Chand
Have we arrived finally? The answer seems to be positive. We have matured and arrived in the sense we wish to have some 'purpose' and 'meaning' in everything around us in our homes. We no longer believe in unnecessary 'acquisitions.' Being fashionable seems to be passé, at last. That brings to light the first crucial trend of 2010 as far as Interiors are concerned : Strong personalisation. Lets have a look at the major design trends this year: