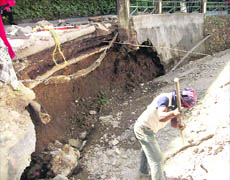 Drinking water crisis in Mussoorie
Illegal construction collapses breaking pipeline
Mussoorie, October 27
Mussoorie had to face water crisis as illegally constructed portion of the building situated near Mount Rose on the Camel's Back Road collapsed, breaking the main drinking pipeline.


An illegal construction that caved in at Camel's Back Road damaging telephone cables and the main drinking pipeline in Mussoorie.

Cong workers celebrate Arya's re-appointment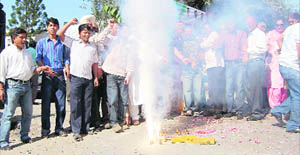 Dehradun, October 27
Congress workers today rejoiced re-appointment of Yashpal Arya as Uttarakhand Congress President. Congress workers, led by Dehradun Mahangar Congress President Harish Virmani, resorted to largescale bursting of crackers and distribution of sweets at the Congress Bhawan.


Congress workers celebrate the re-appointment of Yashpal Arya as Uttarakhand Congress chief in Dehradun on Wednesday. A Tribune photograph

Complaint filed against Arundhati Roy at Nainital
Nainital, October 27
The controversial statements by Booker Prize-winner Arundhati Roy on the simmering issue of Kashmir has found resonance in Nainital as a Bharatiya Janata Party (BJP) leader approached the local police for the registration of a complaint against her.
ITBP's 49th Raising Day
Students learn about security measures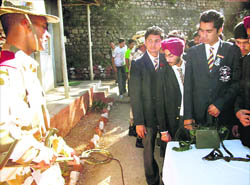 Mussoorie, October 27
The loud explosion emanating from the barracks created at the Indo-Tibetan Border Police (ITBP) combat wing jolted students and took them by surprise as jawans demonstrated the use of explosives by terrorists. More than 200 students from various schools from the town received much-needed information on ways to combat terrorism provided by the ITBP jawans, popularly called "Himveers", here today.

An ITBP personnel explains the use of metal detector to students from Guru Nanak School in Mussoorie on Wednesday.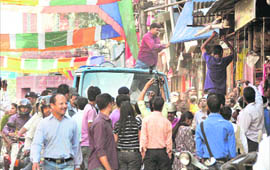 DMC removes encroachments
Dehradun, October 27
Keeping in view of the upcoming festival, the Dehradun Municipal Corporation (DMC), along with police officials, today removed encroachments at Paltan Bazar, Hanuman Chowk and Moti Bazar.


Police and Dehradun Municipal Corporation staff remove encroachments at Paltan Bazar in Dehradun on Wednesday. A Tribune photograph

Open disaster-hit roads by month-end, DM tells XEN
Dehradun, October 27
Dehradun District Magistrate (DM) Sachin Kurve has asked Executive Engineer (EE) RP Singh of the PWD to make sure that roads that were closed due to natural disasters recently should be opened by month-end.
UKD chief gets letter of threat
Dehradun, October 27
Uttarakhand Kranti Dal (UKD) president Trivendra Singh Pawar today allegedly got a threat for his life through an anonymous letter.
Madarsas face BJP govt neglect
Dehradun, October 27
The BJP government continues to be apathetic towards the welfare of the minorities and has failed to allocate a single penny for madarsas. It is even demanding the Centre should share the burden of merit-cum-means-scholarship for pre-metric students.
Minorities panel team to arrive today
Dehradun, October 27
A two-member team from the National Minorities Commission will arrive in Dehradun tomorrow to take stock of the programmes underway in the state.
Film producer promises North Indians the moon
Dehradun, October 27
The winners of "Prince and Princess of North" will get to play the lead role in a Hindi film to be produced by the Yograj Cinevista Film Acting Institute and Film Production House. This was stated by Yograj, producer of the film, here today. Not only this, the company will also be hosting various talent hunt shows to give a chance to upcoming singers, dancers and actors.
Second Nainital Film Festival
Documentaries on Nirmal Pandey, Girda to be screened
Nainital, October 27
Documentaries on Bollywood actor Nirmal Pandey and poet Girish Tiwari, who was popularly known as Girda, will be among the key attractions at the Second Nainital Film Festival that gets under way here from October 29. Both had spent a major portion of their lives in Nainital. The three-day festival is being held by the local cultural organisation Yugmanch in collaboration with the Jan Sanskriti Manch.
3.5 quintals of spurious 'mawa' seized, accused escapes
Haridwar, October 27
In view of supplying adulterated "mawa", a product used to make sweets, ahead of Diwali, a large chunk of spurious mawa was seized from the Jwalapur area by a joint team of the Health and Police Departments. However, the accused, who had brought the material, was successful in running away from the spot with half of the material in the vehicle.
Supply LPG cylinders to residents, dealer told
Dehradun, October 27
Magistrate (City) MS Bisht today asked Shiva Gas Agency to supply gas cylinders to the residents within two days or else face action for non-delivery.
SFI holds 21st convention
Dehradun, October 27
The local wing of the SFI held its 21st convention at DAV PG College here today. Shanti Prasad and Charu Srivastava chaired the meeting.