Protest staged against presenting land documents of 1950 for caste certificates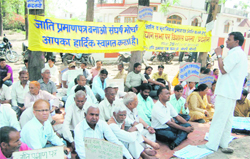 Dehradun, March 28
To cancel the obligation of presenting land documents of 1950 for caste certificates, members of the Jaati Praman Patra Banao Sangharsh Morcha resorted to a massive agitation at the Vidhan Sabha here today.



Members of the Jaati Praman Patra Banao Sangharsh Morcha protests in Dehradun on Monday. A Tribune Photograph
Cong workers observe silent protest in solidarity with Tehri MLA
Haridwar, March 28
While legislator from the Tehri Assembly segment Kishore Upadhyay is on silent protest, ie 'maun vrat', in the interim state capital Dehradun, lending their support to him Congress party workers too observed a one-day symbolic silent protest at the Ganga ghat here today.
BJP trying to hide its failures, says Anupama Rawat
Haridwar, March 28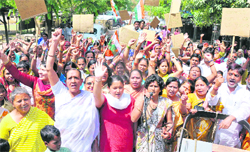 With Chief Minister Ramesh Pokhriyal Nishank presenting a surplus Budget to lure voters ahead of the state Assembly elections scheduled for early next year, women leaders of the Congress termed it as a deliberate attempt to hide the failures and non-governance of the BJP Government in the state.
Women wing workers of the Congress protest against the anti-people policies of the government in Haridwar on Monday. A Tribune photograph
UKD leader apprised of villager's problems
Dehradun, March 28
On the fourth day of the 'Pol Khol' campaign at Mussoorie, senior leader of the Garhwal Mandal of the UKD Pramila Rawat apprised people of the area about the purpose of the campaign and listened to the problems of villagers on the way to the hill town.
Plan to introduce eco-tax at Kempty faces villagers' ire
Mussoorie, March 28
The plan of the zila panchayat of Tehri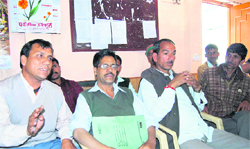 Garhwal to introduce eco-tax on vehicles and individual tourists has met with stiff opposition from villagers around the area. Speaking to mediapersons at Mussoorie, the villagers, led by former pradhan of Siya village Prem Singh Panwar, said, "The zila panchayat officials conniving with some private players were conspiring to sell off the Kempty barrier and introduce eco-tax, which will be levied not only on the vehicles, but individual tourists also in the name of ecology preservation".
Villagers of Kempty address a press conference at Mussoorie on Sunday. A Tribune photograph
Punjab, Sind Bank to open 10 more branches in state
Dehradun, March 28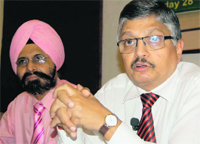 Punjab and Sind Bank (PSB) plans 10 to 12 branches in Uttarakhand in the next financial year. Interacting with mediapersons, PK Anand, Executive Director of the bank, said already surveys had been conducted across the state, including places like Joshimath, Kashipur, Gadarpur and Sitarganj.


Executive Director, Punjab and Sind Bank, PK Anand addresses a press conference in Dehradun on Monday. A Tribune photograph
Uttaranchal Gramin Bank opens 139th branch
Dehradun, March 28 Uttaranchal Gramin Bank opened its 139th (CBS) branch at Mehuwala on the Shimla bypass road here today.
Forest Development Corpn staff stage dharna
Dehradun, March 28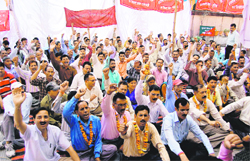 The Uttarakhand Forest Development Corporation Employees Association staged a dharna in support of their three-tier demands viz. upgradation of technical and clerical staff from Class IV to Class III, according to the designation and salary structure of logging guard/depot guard to chowkidar category, and raising the pay-scale bar of clerks from Rs 4,500-7,000 to Rs 5,000-8,000 as reportedly done in other government departments.
Members of the Uttarakhand Forest Development Corporation Employees Association protest in Dehradun on Monday. A Tribune photograph
Women, too, trying luck in today's liquor vend auction
Pithoragarh, March 28
Though women in the Kumaun region are on agitation against the annual auction of liquor shops at several places, a large number of them have also applied for liquor shops across the region. "The auction of liquor shops will be held on March 29," said Excise Department sources.
Encroachment drive in Gularbhoj postponed
Nainital, March 28
Residents of Gularbhoj heaved a sigh of relief as the Udham Singh Nagar administration has postponed its proposed encroachment drive, which was to be held from today morning.
Traders' association formed
Dehradun, March 28 In a vertical split, a majority of the traders of the state have formed a separate association by the name of Pradesh Udhyog Vyapar Mandal Samiti. The new samiti has NP Deewan as its president.
Two 13-year-old boys caught for stealing Activa bikes
Dehradun, March 28
Two 13-year-old kids of class VII were caught by the police for stealing two Activa bikes in the city. They would park the vehicles near their houses and each one would tell his parents that the vehicle belonged to the other, thereby confusing the identity of the actual owner.