Municipal councillor in jail, opponent takes care of the ward
Rajiv Thakur is de facto councillor of Ward 60, as Ram Simran Makkar is behind bars in Gikki murder case
Deepkamal Kaur
Tribune News Service
Jalandhar, September 29
Residents of Guru Teg Bahadur Nagar, Garden Colony, Friends Colony, Housing Board and Khurla Kingra localities, falling in Ward 60 here, are facing a peculiar situation.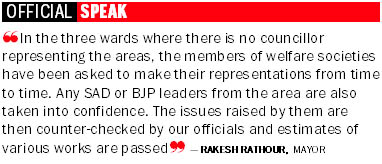 Ever since their elected SAD councillor Ram Simran Makkar was put behind bars in a murder case, the residents here have had to approach his defeated opponent from the Congress for the redressal of their civic problems.
Rajiv Thakur, who had unsuccessfully contested the MC elections in August, 2007, has somehow got an opportunity to act as a de facto councillor from the area. At his residence in Garden Colony, he holds a meeting with residents of the ward and even attests certain documents required by them.
Thakur helps residents in procuring ration cards and availing themselves of pension and shagun schemes. He also countersign documents used for preparing UID cards.
Thakur, who had been the area councillor from 1997 to 2002 on BJP ticket, claims that he still has good contacts with the officials in the MC and with the leaders of all political party. "I had switched over to the Congress in the last elections, because the ward was put in the kitty of the SAD," he said.
Thakur, however, says, "Had he been with the ruling party, he could have performed much more vigorously. Technically, I cannot also attend any House meetings, but I have helped people with their day-to-day problems putting the message across to the authorities."
Ram Simran Makkar was arrested nearly five months ago in the sensational murder case of hotelier Gurkirat Singh Gikki, whose residence, too, falls in the same ward.
Manjit Singh, a resident of Guru Teg Bahadur Nagar, said, "We had thought that since Makkar is the nephew of a SAD MLA, he would be able to represent our problems in a better way, but things turned the other way round."
Surinder Kumar, a resident of Khurla Kingra, claims that even the councillors of adjoining wards, including Surinder Kaur, Narinder Kaur and Balraj Thakur, were taking interest as they were helping them by attesting documents. He said his colony was the most neglected of all areas in the ward with no concrete roads.
In Ward 26, it's the same story
There are three wards in Jalandhar that are functioning without councillors. Congress councillor Sukhmeet Deputy, convicted in a ransom case for alleged kidnapping, has not been able to attend even a single meeting of the MC. In his absence, Jimmy Kalia, his BJP opponent, is the de facto councillor.
In Ward 19, husband steps in after wife's death
Anita Dhir, councillor from Ward 19, passed away almost a year back. Her husband Satish Dhir is taking care of her ward. He is a regular visitor to the MC and even attends the house meeting seated at the back.