Constituency Watch
Amritsar East

Newly carved out, neglected for long
Manmeet Singh Gill
Tribune News Service
Amritsar, January 14
With respective sitting MLAs turning their back towards the areas from which this Amritsar East constituency has been carved out, the constituency has failed to see any major development during the previous five years. The newly carved constituency has areas from Verka, Jandiala, Amritsar (South) and Amritsar (North) constituencies.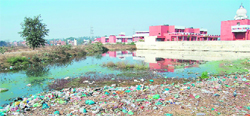 Sewer and garbage accumulated at Maqboolpura area in Amritsar East. photo: sameer sehgal
The Maqboolpura area with a population of 25,000 is the most backward area in the entire constituency. The area had been in news for drug habits of its residents. A local woman, Namo mai had lost six of his sons to drugs. The old woman is living with his only living son. There are others too who had lost family members to drugs.
The area is backward on the socio-economic front. Residents complain of bad streets and sewerages. They also complain that they have no jobs.
The families mostly poor complain that their sons have lost aim because of government apathy. The East Mohan nagar in the locality, which once used to be an industrial hub, has now been taken over by the marriage places. "The industry has been wiped out, but the marriage palaces do not generate much jobs," rued a resident. The rural areas in the constituency, such as Verka, are not too well off. Even as the sitting MLA Dalbir Singh hailed from Verka, the area has not seen much development. The constituency includes areas as Tehsilpura, Kangra colony and Batala road.
The Mehta road, whose re-pavement was inaugurated with much fanfare by the local MP, lacked attention for the past seven years. Residents rue that had it not been for the elections, the construction of road could have been delayed further. "It had not been paved for last seven years. The lives of people here was really miserable," commented a resident.
Fact File
The Amritsar east constituency was newly carved.
No MLA has taken interest in the development of the area as constituency came into being post delimitation.
The constituency has 1,23,633 voters out of which 65, 733 are males and 57, 890 are females.
Cong makes it a triangular fight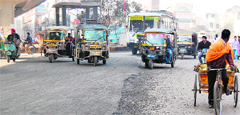 The Congress seems to have added to its woes in this constituency by changing its candidate and turning the contest into a triangular fight. The party had first allotted ticket to Simarpreet Kaur Bhatia, wife of Congress leader Harpal Singh Bhatia, who died in a road mishap a few days back. However, it later replaced her with former Mayor Sunil Datti. Interestingly, the Congress had moved Jasbir Singh Dimpa, who was a strong contender from Amritsar (East) to Amritsar (South) to accommodate Simarpreet. With the party fielding Datti, Simarpreet has entered the poll fray as an Independent candidate, which is bound to divide the Congress vote in the constituency. Simarpreet may garner sympathy votes due to untimely demise of Harpal.