Constituency Watch
Jalandhar cantt

Closed Roads, Octroi major issues
Tribune News Service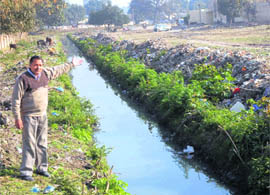 An electorate shows the ganda nullah in the area. Tribune photo: Malkiat Singh
Jalandhar, January 14
Closure of several roads for civilians by the Army authorities, non-abolition of octroi and lack of basic amenities in several newly constructed colonies in various areas are the major issues in Jalandhar Cantonment constituency. Drug addiction among youths in various areas and ganda nullah in Lal Kurti locality are also causes of concern.
As many as six roads --- from Sansarpur side to Mall road, Vajra Canteen to Subana village, EME Workshop (opposite Dakoha railway crossing) to ND Victor School, Rama Mandi Chowk to Inspection Bangla, Cantt to Mithapur (Octori post) and GT Road (opposite Bhur Mandi, PAP side) to Mall road --- have been closed for civilians.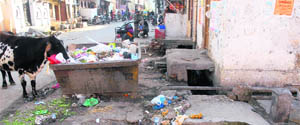 The problem of garbage and stray animals irks residents in the Jalandhar Cantonment constituency. Tribune Photo: Malkiat Singh
Due to closure of these roads, thousands of residents of cantonment and surrounding villages have to cover several kilometres extra to reach their destinations.
Further octroi in the cantonment was not abolished despite assurances by senior leaders of both the Congress and Shiromani Akali Dal. Charging of octroi hit shopkeepers of the cantonment, as residents prefer to buy various items at cheaper rates from shops located outside the cantonment.
Besides, a number of newly constructed illegal colonies located on the outskirts are without proper sewer and drinking water facilities. Hundreds of residents of these colonies suffer a lot due to lack of basic amenities.
Fact File
n There are 1,49,206 voters in the constituency, out of which 77,573 are male and 71,633 female
n Jagbir Brar is Congress candidate, Pargat Singh is SAD candidate and Baba Rajinder Singh Johal is PPP candidate.
Higher education should be inexpensive: Youth
Youngsters of the area felt higher education should be inexpensive so that even poor people may send their children to colleges. They also rued lack of libraries, playgrounds, parks and proper roads in various parts of this constituency.
A Class X student, Suraj said leaders should make efforts to make higher education cheaper so that every one may get their children admitted in colleges and other higher educational institutions. Parveen, a Class IX student, said there is no library in his Lal Kurti area.
Youth Gaurav Kumar said the roads are full of potholes in the constituency. The roads should be maintained properly, he added.
Kunal Kapoor said there are dearth of playgrounds and parks in the area. More playgrounds and parks should be made.
Candidates' take


Pargat Singh
SAD


Baba Rajinder Singh Johal
PPP


Jagbir Brar
Congress

What are the major issues to be raised?
The SAD-BJP government has done a lot for the state. I will highlight its achievements and carry forward the positive politics
Corruption is a major issue at the Centre and state. Besides, I promise to implement the promises made in PPP manifesto
The issue of basic amenities in the newly constructed localities will be my priority. I will also provide potable water to various villagers, get traffic problem solved and will get the octroi abolished.
What about abolition of octroi and roads closed for public?
The issue of closure of several roads will be discussed with the Army to come up with a solution. As far as octroi is concerned, that will be abolished. Efforts will be made to develop better coordination between the Army and civilians.
I always stand by the public and I will do so in making every effort to get the roads open for civilians. I will certainly abolish octroi.
I did my best to get the octroi abolished, but the SAD-BJP government stalled the move as I left the SAD to float the PPP. About closure of roads, I will take up the matter with the Centre.
What are your poll promises?
I don't want to make tall promises. I will execute whatever I say. I will also try to solve the problems faced by small potato farmers and difficulties faced by the youth
I have served the voters of this constituency for past some time during my 20-year tenure as Jandiala Manjki sarpanch, chairman of Market Committee Nurmahal and MD of cooperative bank. I will do the same after my victory.
I will carry out more development in the constituency
What are your chances of winning?
I will win definitely as every SAD worker is with me. And voters will not vote for MLA Jagbir Brar (who won on SAD ticket, left it to float PPP and later joined the Congress).
Punjabis want to give a chance to PPP's Manpreet Badal this time to get clean government. I am confident of victory. Voters will prefer me instead of turncoat Jagbir Brar and greenhorn Pargat Singh.
I will definitely win. I have served residents of this constituency during the past five years.
PEOPLE'S VOICE

'Problems remain unsolved'

Politicians should visit our areas after winning the elections. They forget our issues once they are elected. And residents are the only sufferers

— Rakesh Dogra, a resident
Over half km long ganda nullah flows in Lal Kurti area is a breeding ground for mosquitoes and insects. This should be covered and desilted from time to time
— Sanjeev Nishal, a resident

My husband died about 13 years ago, but I have been denied widow pension despite filling proper forms. I brought the entire matter into the notice of MLA Jagbir Brar, who visited my house a few years ago, but to no avail

— Saroj Kapoor, homemaker
Several ineligible and influential persons have got BPL cards, whereas the deserving persons are without these cards. Candidates should promise to give BPL cards only to genuine and deserving persons
— Jaswant Kaur, homemaker

Liquor and money should not be used for buying votes. Dairies located in several localities should be shifted outside the area of Cantonment Board. Besides, garbage should not be dumped near houses and it should be regularly lifted

— Kulwant Rai, shopkeeper
Octroi should be abolished without any delay. Octroi has hit the shopkeepers of Jalandhar cantonment
— Raghubir Kumar, shopkeeper