Akali leader's son held for filing false complaint
Amritsar, April 23
Mohkapura police has arrested Atamjit Singh, son of a former senior vice president of Sikh Student Federation (Mehta) and Akali leader Iqbal Singh Tung for allegedly filing a false complaint against a Delhi resident Bhavuk Sahni.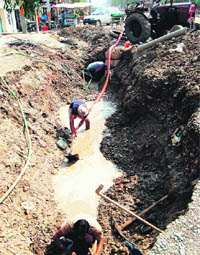 Shopkeepers on Majitha Road suffer due to damaged water supply pipeline
Amritsar, April 23
The shopkeepers on Majitha Road, near Power Colony, have been suffering due to damaged water supply pipeline in the area. It took over two days for Municipal Corporation (MC) employees to reach the spot for repairing the broken water supply pipeline. However, minutes after they left, the water started leaking again from another point.




Employees of the Municipal Corporation repair the broken water supply pipeline on Majitha Road in Amritsar on Monday. Photo: Vishal Kumar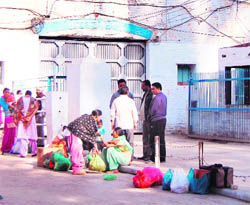 Drugs make a 'soap'y entry into Central Jail
Amritsar, April 23
After onions, capsicum and tomatoes, the officials of the Amritsar Central Jail have discovered another way to sneak drugs into the jail. This time, it was a simple bathing soap cake which was found in a well packed sachet of 35 gm smack and Rs 100 currency note.


Visitors wait outside Central Jail with articles to be handed over to inmates. Photo: Sameer Sehgal

13-year-old girl goes missing from Golden Temple
Amritsar, April 23
Mystery surrounds the disappearance of a 13-year old girl from the Golden Temple complex. The CCTV footage shows that the girl was last seen in the company of two unidentified girls. The police has lodged a missing persons report.
7 booked for attempt to murder
Amritsar, April 23
Rambagh police has booked seven persons in an attempt to murder case. The accused have been identified as Kanwal Kishore Verma, Vinay Verma, Rajan Verma, Montu and three others who are yet to be identified. They were booked on the basis of a complaint filed by Amanpal Singh here.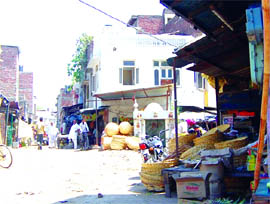 Trade continues from de-notified mandi
Amritsar, April 23
Even as the old sabzi mandi (vegetable market) was de-notified in 1995 and majority of the shops were shifted to the new vegetable market at Vallah in 2004 yet many wholesale fruit merchants still operate their shops from the former location.


Wholesale fruit shops operate from the old sabzi mandi area in Amritsar. Photo: Sameer Sehgal

from schools
City girl wins quiz contest
Amritsar, April 23
Kiranbir Kaur of Sri Guru Harkrishan Public School, GT Road stood first in the quiz contest held on topic of 'Healthy Schools-Healthy India-A dream to realise' organised as part of CBSE International Life Skills, School Health and Wellbeing Summit 2012 at India Islamic Cultural Centre, New Delhi.
Key contenders in catch-22 situation
Amritsar, April 22
The rotation of 65 wards in Amritsar has put candidates aspiring to contest the ensuing municipal corporation elections in a catch-22 situation.
Health camps for BPL families
align="left">Amritsar, April 23
The Health department will organise month-long special health camps for families belonging to the BPL categoroes at various government hospitals in the district. The camps will be organised under the Rashtriya Swasthya Bima Yojna (RSBY).
20 km walk
KCW girl sets national record
Amritsar, April 23
A national-level athlete and student of Khalsa College for Women (KCW) Khushbir Kaur has set a new national record in the 20 km walk event. She has qualified for the World Cup in the discipline to be held in Russia next month.
Motorcycle-borne snatchers strike again
Amritsar, April 23
Two motorcycle-borne youths allegedly snatched the purse belonging to a resident of Delhi near Kundan Dhaba on Albert Road late last night. The woman and her husband Harmeet Singh, a resident of Fateh nagar Jail road, New Delhi were on their way back on a cycle rickshaw after attending a wedding. They had hired the cycle rickshaw from the railway station.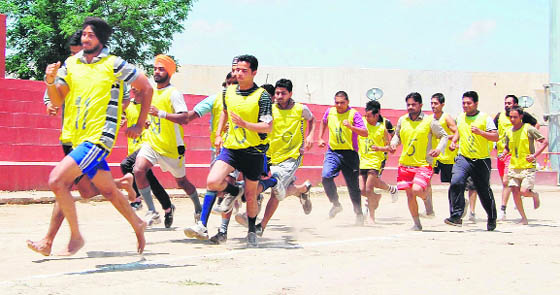 Aspirants take part in a police recruitment drive at the Gandhi ground in Amritsar on Monday. Photo: Vishal Kumar