Rescue op ends, no trace of missing worker
Jalandhar, April 24
The machines have gone silent. The rescue operation is over and the victims trapped under the debris of Shital Fibres are all out. However, the wait is still not over for Satdev and Heera Chand, the kin of labourer Radhe Mohan (35), from Aara, Bihar, who are running from pillar to post to trace him.
Tragedy has made her life harder
Jalandhar, April 24
"Hum bacchon ko bataye nahi hai ki unke pita nahi rahe" (I have not told my children that their father is no more), said a weary and dejected Chandravati (28), who lost her husband Bhagwan Das in the tragic Shital Fibres factory collapse on April 15 night.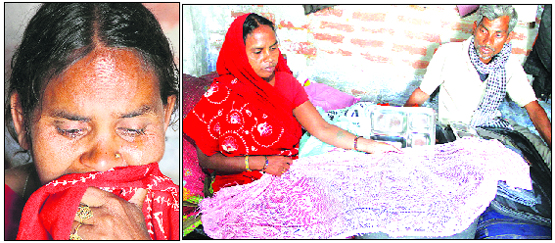 Chandravati breaks down into tears while packing the belongings of her husband in Jalandhar on Tuesday. Photo: Sarabjit Singh
With no work defined, 6 chief engineers serve local bodies dept
Jalandhar, April 24
Confusion prevails in the state Local Bodies department as it has six chief engineers with work not clearly defined. Since several posts of superintending engineers (SEs) have been left vacant and the new chief engineers not being transferred to Chandigarh, the latter are continuing to discharge the duties as superintending engineers.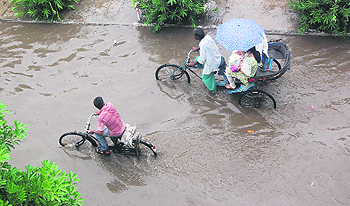 Sans drainage system, rainwater continues to flood Rajinder Nagar
Jalandhar, April 24
With the Jalandhar Municipal Corporation elections scheduled to be held in June, it seems that residents of Rajinder Nagar will not get an early solution to the problem of accumulation of rainwater on streets.
A file photo of water accumulated on a street in Rajinder Nagar in Jalandhar.
Revoke decision on subject: Lecturers
GND varsity abolishes Punjab History and Culture at graduation level
Jalandhar, April 24
Shocked by the decision of Guru Nanak Dev (GND) University, Amritsar, of abolishing the subject of Punjab History and Culture (PHC) at the graduation level, lecturers of the subject have asked the university to revoke the decision in the larger interest of the students.
Industrialists woo Shital factories' labourers
Jalandhar, April 24
After the collapse of the Shital Fibres factory on April 15, scores of industrialists of Focal Point Extension here and adjoining cities have been reportedly wooing its labourers by offering them more wages.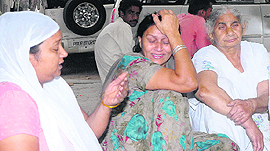 3 of family killed in road accident
Jalandhar, April 24
In a tragic incident, a man, his wife and their six-year-old girl daughter died in a road accident on the Hoshirapur-Chandigarh road near Mahilpur village this afternoon.
Family members of the deceased at the Civil Hospital in Jalandhar on Tuesday. Tribune photo: Malkiat Singh
from schools and colleges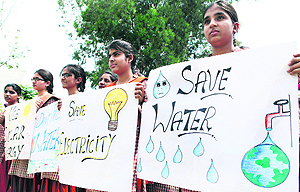 Five BD Arya Girls College lecturers get UGC grants
Jalandhar, April 24
The University Grants Commission (UGC), New Delhi, has granted five minor projects to five lecturers of different departments of BD Arya Girls College, Jalandhar Cantonment.
Students of St Soldier Divine Public School, Kapurthala Road, hold an awareness rally on "Save water, save electricity, save earth" in Jalandhar on Tuesday. A Tribune photograph