Hit & miss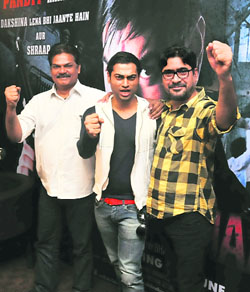 In Chandigarh to promote their film, Chakradhaar, the cast of movie decodes why not all Bollywood hit films are good and why not all good films are a hit…
The dynamics of Bollywood is 'a bit' difficult to comprehend. 'A bit' if you can after some contemplation figure out why Shanghai (which had a storyline) couldn't gross 100 crores unlike Rowdy Rathore (storyline in this case means how many men could Akshay Kumar single-handedly kill)! Why remake of regional films are a hit and original scripts very few; in case you still want to stick to the 'a bit' part! In Chandigarh to promote their film, Chakradhaar, Yashpal Sharma, Akhilendra Mishra and Abhishek Anand besides the immediate job at hand (promotion of their film) try to demystify Bollywood.
ACT WISE: (L-R) Akhilendra Mishra, Abhishek Anand and Yashpal Sharma. Photo: Pradeep tewari

Script for success
In Chandigarh for an interaction, film-maker Kurt Inderbgitzin says it's a specialized job and one requires thorough training before making films


You might pick up a camera and start filming, but in a similar way, you can't really hang a stethoscope and start operating! For Kurt Inderbgitzin, CEO, of Annapurna International School of Film and Media, "That's bizarre." That too pronounced with the right emphasis to bring home the surprise! "You can't start constructing a building unless you've been to an architect school. Then what makes you think that you can start making films or be a star unless you've had training. I promise you, film-making is as complicated as making a skyscraper." In Chandigarh for a seminar and interaction on the new courses they've introduced, he's ready to start from the ABC of film-making. One at a time!
When history meets mystery
Manreet Sodhi Someshwar's novel The Taj Conspiracy takes the best from our past and with modern tools brings it to life…
On one of the most famed and one of the most framed marble structures, the Taj Mahal, urban legends, folklores and tales galore…we all know the love story behind the tombstone and there's a full stop beyond that!
Get sporty
Film-maker Harjinder Singh Dhanoa, whose movie Kabaddi. Once Again was recently released, says sports is the route to healthy living
It is not only sarson sa saag or NRI problems of love triangles that the Punjabi film industry chooses to focus upon! Somehow, film-makers have taken fancy to sports as a subject for their movies. Meet Harjinder Singh Dhanoa, who feels sports is a way to healthy living and also a route where the youth of Punjab can associate and grow at the same time.
Doc Talk
Not a bumpy ride this
In this sweltering, terrible heat when the sun is beating down on north India, everybody wants to travel to cooler climes. Pregnancy is a tough time for women, and mothers-to-be may want to move to a place where the climate is more salubrious. However, it is essential for pregnant women to be extremely careful regarding their travel plans. This becomes even more important if the woman is in the first trimester of the pregnancy. Alternately, working women who are expecting a baby have to be very careful about their travel, and their immediate environment. There are certain precautions that a pregnant working woman must take to ensure the health of the baby.
Dine in style
On the House, a new restro bar that opens on Sunday, offers more than just good food and fine drinks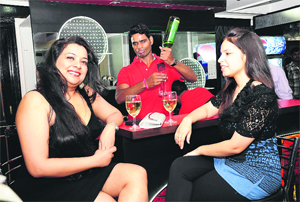 If there is one thing Chandigarh does best, it is rejoice great meals - from buffets to a la carte, from Indian to Thai, from a plush sit-down to the roadside dhaba. Moving into the league of extraordinary dining experience is On the House. Located in Sector 35, the restro bar, scheduled to open on Father's Day, aims to provide a low-cost and yet elaborate menu for the ultimate dining experience. Themed in red and black, the bar came in a concept as an afterthought of a flourishing wine business of its owners.
Cracking it simply
There are very few who just breeze through to the top - no extra effort, no gruelling hours of study and no missing out on parties. Such is the story of Anhad Singh Miglani, who recently topped the Common Law Admission Test (CLAT). Beating 26,000 students, the one thing that worked for him was a keen interest in current affairs. We dig in more and find out what makes Anhad rise and shine above the rest. A pass-out of Vivek High School, Chandigarh, Anhad is all set to absorb the college experience at the National Law School, Bangalore.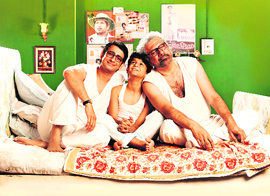 First-day-first show
When dreams take flight
Film: Ferrari Ki Sawaari: Ferrari Ki Sawaari is a heartwarming story of common men with big dreams and how one night changes their lives forever. It's a tale of a small boy and his passion for cricket. His father Sharman Joshi and his grandfather too were very good players. Through his son, Sharman wants to realise his dream of playing for the country.
A still from Ferrari Ki Sawaari
Get gorgeous with Simone Singh
Simone Singh is remembered for her roles in Kal Ho Naa ho, Being Cyrus and TV serial Heena. She is a regular on the social scene in Mumbai. The beauty is blessed with glowing skin and she shares her tips on skincare. Drink plenty of water even if you are not thirsty during the monsoons. It is a process that flushes out toxins. Choose warm water over cold. Always use a reputed face wash that suits your skin type. Soap is a complete no for the face. Use face wipes to keep skin oil free. Clean, tone and moisturise. Use cleanser at the end of the day to get rid off the dirt, then use a toner to get rid of excessive oil and finally moisturise your skin. This balances the skin and allows it to breathe.

Chatter box
Over to the host
Ragini Khanna, who was disappointed when Sasuraal Genda Phool went off air recently, will now be hosting Jhalak Dikhlaa Jaa 5. She is eagerly looking forward to it. How is the experience of hosting Jhalak Dikhlaa Jaa 5? I have not started shooting yet, but hoping to have a good time with everyone. At the launch, the contestants want to focus on their performances. The judges and anchor are the only ones who are thinking beyond performances.

Dramatic return of Ranchod
Zee TV's Yahaan Main Ghar Ghar Kheli has been coming up with interesting plots, keeping viewers on the edge of their seats. The recent twist in the tale promises the same. Viewers will soon get to know that Karan's (played by Karan V. Grover) twin brother, Ranchod will make a re-entry.
Twisted tale: Suhasi Dhami
Astro turf
ARIES: Self-employed people may feel like putting in a few hours to supervise property ventures. Conditions at home will be pleasant. It's critical to have a balanced lifestyle. Court witness goes in your favour. Tarot message: You need to act for yourself and no one else. Lucky colour: Peach.
The year ahead
If your birthday is June 16...
Celebrations are indicated with news of births, followed by weddings and career prospects. You have to let go of the past if you wish to get out of the sentimental mood, which grips you. Extra caution and care seems to be the word of the hour when handling finances. You will be irritated with the behaviour of the people around you. Some of the good opportunities will come through new people you meet. Do not come under pressure of others when making important decisions. Watch out for individuals who might try to mislead you. Friends are urging you to throw caution to the wind. You are rarely the one who will splash out cash without thinking first. At least your judgement regarding home affairs is smooth so stick to your plans in this area.
Jewel king
Gitanjali Jewels brings The Royal Treasure Exhibition to Chandigarh which will be on till June 17 at Gitanjali Jewels, Chandigarh. It is a one-time opportunity for jewellery lovers in Chandigarh to savour the unique collection. The collection includes heavy diamond jewellery, kundan, polki, rose-cut jewellery, precious and semi-precious jewellery with diamonds and pearls with gold; temple collection and antique gold jewellery.
Ticket to Bollywood
Oscar-nominated actress Isabelle Adjani is in Mumbai to shoot for her first Bollywood film. She will be seen in Preity Zinta's home production Ishkq in Paris. Preity who is busy shooting for the film said, it's an honour to share screen space with Isabella. "I'm having fun time on the shoot of Ishkq In Paris," she said. It is learnt that Isabella is staying at a suburban five star in Mumbai and will be in the city for around ten days. A close source shares with us, "It took quite some time for Preity to convince Adjani for the role. There are quite a few powerful scenes where Adjani and Zinta share the same frame."



Long time, no see
Jackie Shroff may have a role in Dhoom 3 and he will share the screen with Aamir Khan. This will be their second movie together after Rangeela in 1995. Also Aamir Khan is taking deep sea and scuba diving classes at a club in suburban Mumbai to train for his role in Dhoom 3. Shooting begins in Chicago in a few weeks. Sea saw: Aamir Khan


First look
The promo of Sridevi's comeback film shows her reading the Censor Certificate of the film in broken English. The film is called English Vinglish. She just giggles while reading the certificate and isn't any scene from the film.
B'day girl Amisha
Amisha Patel celebrated her birthday in Turkey with her friends Kunal and Shammli and cast and crew of Race 2. She had a ball and wore a sexy white dress. The party was organised by her friends.
Work on wheels


Shahid and Priyanka promoted Teri Meri Kahaani by taking a ride on a local train in Mumbai. How innovative actors can get! They also travelled and shot in a train during Kaminey. They got a compartment to themselves and the crowds took pictures.
Publicity stunt: Shahid Kapoor & Priyanka Chopra
Just let him be
Shekhar Ravjiani of the Vishal-Shekhar music director duo has been considered hero material ever since he appeared as a judge on a television show. He has been offered a few films but is happy making music at the moment.
Fan mail for Nargis
Nargis Fakhri had a fan in Singapore since her modelling days. They interacted online often. She went to Singapore for IIFA and agreed to meet the fan and his family at a mall. She even posed for pictures and signed those that he had collected.

Behind bars
In Sony's Saas Bina Sasural, Pashu Bhaiya (Rajendra Chawla), who has been working as a watchman, will fight with some society members and end up in jail. Toasty (Aishwarya Sakhuja) and the entire family will try hard to get his bail amount. Lets wait and watch how the family will work togther to help out Pashu and how it will end up changing things.
Kidnapping saga
In Star Plus' Ruk Jaana Nahin, Shweta will get kidnapped and as she's scared of Indu Singh (Aniruddh Dave), Sanchi (Pooja Sharma) will assume he kidnapped her. Her doubts will be proved when she finds Indu's bracelet in Shweta's room.
Birthday bash for Imarti
Imarti Devi (Hema Singh) will get a big surprise when her new bahu Ambi will organise a birthday party for her in Colors' Kairee. Ambi will invite Imarti's elder son Prakash (Abhinav Kohli) from Dubai, but in reality she wants Prakash to unite with his wife Kusum (Dipti Dhayani).