Verka products short in supply as dairies turn to pvt players
Megha Mann
Tribune News Service
Bathinda, November 19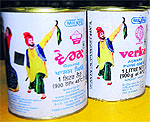 The private players in the milk and its products distribution are giving a tough competition to the Punjab State Cooperative Milk Producers' Federation or Milkfed.
Owing to a sudden increase in the rates of milk procured from dairies across the district, dairy owners have started selling more milk to private players rather than the Milkfed, which has a sizable share in the organised sector of milk and its products. Consequently, the Milkfed's Verka ghee is not available in the market while the rest of ghee packets are being sold above the Maximum Retail Price (MRP).
With demand for the ghee increasing in winter, shortage of the Verka product has pinched the city residents hard.
Sources said right after the Diwali festivities ended, private companies hiked the rates offered to dairy farmers increasing the margin by 50 paise to Re 1 per litre. While the Milkfed collects milk through cooperative societies, the private players have thrown bait for dairies to bite in the form of handsome turnover. In such a scenario, even the members of cooperative societies have started providing milk to private players instead of the Milkfed, sources said.
Besides catering to the local market, the Milkfed also has "liability" in the form of supplying fixed quantity of milk and its products to the Central Jail, Bathinda, Army cantonment, various gurdwaras and other institutions. "The private players do not have any liability and operate purely for commercial interests. On the other hand, we not only support the cooperative societies but also have to fulfil the responsibility the government has assigned us," said general manager of the Milkfed, Bathinda, Rupinder Singh.
He added that daily production of ghee at the Bathinda plant was 1 tonne. Soon after Diwali festivities concluded, the city soaked in weddings and gurpurb celebrations, which fuelled the demand for ghee.
The managing director, Milkfed, Alaknanda Dayal said there was no scarcity at the production end.
"Anticipating a rise in the rates of ghee, many retailers seemed to have hoarded huge stocks of the dairy product. We have reports of people asking for an unusual number of ghee packets. Since our ghee is the best and is being sold at the lowest price in the market, retailers have held it back to create an artificial scarcity that would fuel its rate," she explained.
Dayal hoped that the situation would ease over the next few days as Verka too would revise its rates.