TELEVISION
The chat show with a human touch
TALK shows may be the big flop story of the small screen, there are some which are surviving and actually doing well,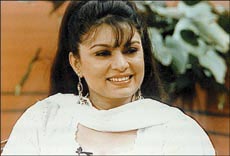 thanks to their choice of subjects and their style of presentation.
The Kiran Joneja Show is one of the successful ones. It has entered its second season on Star Plus. The strength of the show is that it examines everyday issues that affect our lives.
The tone shifts from time to time, from serious, current and hard-hitting, to light and jovial. However, the most important element is the human angle. When dealing with subjects, the show maintains a human and accessible stance. Real life, experiences of both trauma or success are what touch the viewers' hearts.
There are inspiring stories of triumph and hope, as well as startling tales and hard hitting factual accounts of tragedy and despair. Some of the interesting subjects that Kiran Joneja has discussed with her audience in the first three weeks are second marriages, obesity, astrology and stress. Which explains why an increasing number of viewers are relating to the show, accounting for its high TRP.
Doctor's dilemma
It is a situational comedy inspired around the life and times of an honest,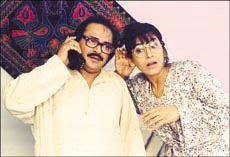 well-meaning but orthodox doctor and his once modern wife who wishes to extend a helping hand to mitigate her husband's financial troubles, by seeking employment.
And that forms the basis of the humour in Jaane Bhi Do Paro on DD II. The doctor refuses to accept his wife as a financial contributor in their day to day existence. This leads the wife to adopt different means to keep the home fires burning.
A college friend calls up and solves her problems. They set up a replacement bureau as a direct contrast to many well established placement bureaus leading to a variety of interesting situations.
Archana Puran Singh the star and director of Jaane Bhi Do Paro has a team of comic characters like Farooque Sheikh, Rakesh Bedi and Shashi Kiran. Neena Gupta too makes a cameo. With such talents, the serial will garner TRPs faster than most sitcoms.
Life within life
An intense new drama series premiering on Sony Entertainment Television. Alpviram is a story based on the character of Amrita (Pallavi Joshi) who goes into a coma on her 21st birthday due to a cerebral haemorrhage.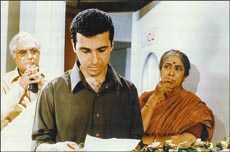 This irrevocably affects the life of three people — her grand parents, who have taken care of her and her fiance, Rohit. As everyone battles with emotions, Rohit decides to stand by her side even if she never comes out of the coma.
The story takes a bizarre turn after a year when a doctor discovers that Amrita is three months pregnant. This means that somebody from the hospital or someone close to her is the culprit. Attempt are made to unearth the man without creating a scandal.
Meanwhile the stirrins of new life within Amrita, brings her out of coma. She wakes up to find her whole life changed completely, to a nightmare which is now her reality. She is now faced with tough decisions about the baby, her relationship with her fiance Rohit and her feelings towards her rapist and her incomprehension of what has happened to her.
All about Indian music
Channel V's new show ArtisTree is all about Indian music. Each week the show will focus on the careers, aspirations, loves, hates and of course, the music of one performer — in depth. It will feature concert footage, exclusive live performances, interviews, a little digging up of archive footage and videos. In other words the show will trace the complete tree.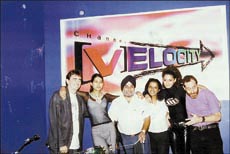 But that's not all — every Indian artiste featured on ArtisTree will introduce the viewers to a sapling artiste who has great potential but has not been given a break as yet. They will also get an opportunity to perform live on the show. At the end of each series, Channel (V) will telecast a special concert featuring all the new artistes and will hold a nation-wide viewers vote to find a winner. The channel will then launch this artist, on air with a specially commissioned video.
A very interesting show with a well-thought out content which gives viewers an opportunity to see Indian artists' branch out like they never have before.
Wild encounters
Did you know that like human beings, elephants snore while sleeping? Did you know snails make love with their horns? Did you know most reptiles have the ability to regenerate their teeth once they fall off?
This new animal quiz Wild Encounters every Saturday on Star Plus will keep your knowledge of animals alive.
The quiz show is designed on the rapid fire and knock out format.
There are 10 participants and the aim of each is to eliminate all other participants. Rendering each one, first "threatened" then "endangered" and finally "extinct" — which means the player is out of the game till only one person is left-victorious!
Though the participants are adults, children will find the show most entertaining and informative. This animals quiz is conceived to keep the entire family involved week after week.
Dawn of Independence
It's Gaatha re-told in Assam. Dawn on Star Plus is the story of the freedom struggle set in the picturesque town of Tezpur. Produced by well known music composer Bhupen Hazarika and directed by Kalpana Lajmi is set against Assam's bountiful wilderness highlighting the state's role in India's freedom struggle.
It is an unusual love story of a young couple and the awakening of their conscience for their country.
Written by Kalpana Lajmi and Sridhar Rangaihn, it stars Shahbaaz Khan, Mona Ambegonkar, Arif Zakaria and Deepa Lagoo.
The first 26 episodes are set against Assam's elephant catching operations by the state's princedoms, tea plantations. It also tells the story of the young revolutionaries and their sacrifices for freedom.
Dawn is a very special serial as it educates the audience on Assam's role in India's Indepen-dence. The serial brilliantly portrays the north-eastern state's little known history vividly through this poignant story of struggle and romance.
— Mukesh Khosla