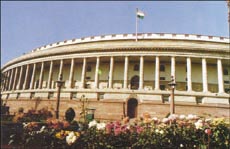 Towards better governance
By Satya Prakash Malviya
AN alternative form of governance does not necessarily mean the presidential system. To me it means improving the present parliamentary form, rather than replacing it. We have at present a parliamentary system. An alternative form of governance for our country, therefore, means any form of governance other than the parliamentary.
A political activist in her own right. Reicha Tanwar says the history of the Indian woman is one of an ironic paradox.
The Saas-Bahu temple of Gwalior Fort. An architectural feature by Arun Gaur.
Our regular features include: