Dil Se: Straight from the heart
By Madhur Mittal
Mani Ratnam. A master craftsman whose passionate works have left an indelible impact on celluloid with elan. He is ready to launch his first Hindi film upon viewers who're eager and curious.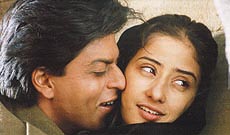 The film comes from Ratnam's very heart and is titled Dil Se. Honestly, the movie is unique in many ways. In the first place, Mani has himself written the story and screenplay. Also, he has with him, creative colleagues like Ram Gopal Verma and Shekhar Kapoor! Dil Se introduces teenaged sensation —Preity Zinta — in a role to remember. A love story "that's going to surprise everyone", Shah Rukh Khan and Manisha Koirala are in the lead cast.
With the lethal combo of lyricist Gulzar and music director A.R. Rahman, Dil Se has sent the sales of audio cassettes and CDs at Venus soaring! In case the Arabic words in the film's promo left you foxed, well, they imply the seven different shades of love: Hub is attraction; Uns is infatuation, Ishq is love, Aqidat is reverence, Ibaadat is worship, Junoon is obsession Maut is death.
And Dil Seis a violently passionate journey thru' these seven shades.
King Khan
On the other hand, the star who's really proved his mettle, is Aamir Khan. I dare say he has surprised himself even, with the success of his starrer Ghulam.
There had been apprehensions galore when the movie initially opened to a somewhat lukewarm response. But, just a couple of weeks later, the box office collections picked up to the extent that the film is not officially stamped a big, big hit, imagine!
Even the most seasoned trade pundits haven't been able to quite comprehend this sudden shift. All they shrug is: "Probably, luck of competition from subsequent releases is mainly responsible".
Well, whatever it may be, Aamir ought to be called King Khan!
Terrific Tabu
Also up is Tabu in every which way. Easily one of the most versatile and talented young leading ladies today, she not only has her cake, but eats it, too!
Like, on the one hand, she's signing interesting, offbeat films such as Govind Nihalani's Takshak and Gulzar's Hu Tu Tu, while on the other hand, she's (smartly) making sure she remains popular with the masses at large... by grabbing choicest commercial movies such as Sooraj Barjatya's Hum Saath Saath Hain, Priyadarshan's Raftaar, and boyfriend Sajid Nadiadwala's Chitralekha remake.
Of course, it's another matter entirely that, at times, Tabu's made some ridiculous picks — the Ramsay's horror 'horror' 2001, for instance, okay? But then, you can hardly blame this lovely lass because, sometimes, you have to do things just for the megabucks.
Ritzy Rekha
Oh, while on the subject, everybody who has seen the rushes and trailors of Rekha's new starrer, Mother 98 was zapped to see her brazenly gyrating (with saxophone in hand, mind it) on the beaches of Mauritius with the likes of Jeetendra, Rakesh Roshan and Randhir Kapoor, amongst others.
Not that the entire film is likely to be in this weird vein. If there are more exaggerated flighty scenes of a similar ritzy Rekha, there could be a definite backlash. Because viewers are certainly expecting something different — and that is high histrionics from Madam Rekha.
Similar studs
The industry wags insist that Sunny Deol and Akshay Kumar have a lot in common starting with their hairy chests. Both are undeniably action heroes (even though either of them tops at comedy) and their movies cannot "throw up" gore.
The 'yakkers' (or are they the real wise men?) go on to add that both heroes have acted with comely heroines such as Karisma Kapoor and Juhi Chawla, with a dash of intimate romance on screen and with Raveena Tandon off screen.