Is the sun disappearing for Sanjay?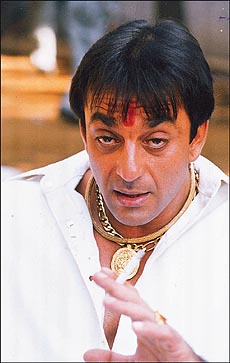 By Madhur Mittal
IT'S sad, but heavy dark clouds appear to be closing in on none other than Sanjay Dutt. His career, which was expected to take him zooming to the top once more after he found freedom from prison, is today totally in the doldrums...
Had even one of his new films clicked at the box office, the story would have been altogether different. But, as things stand now, he is slowly but surely being isolated by the film industry. Unfortunately, fact is that the film line — and the film folk — can be rather cruel and callous. And since the industry is going through one of the worst production and financial crises, all kinds of bonds and loyalties have been swept under the carpet.
However, what I'd like to know is: Why pick on Sanjay? When films of "sure sell-outs" like Govinda and Shah Rukh Khan are flopping of late, the industrywallahs ought to isolate them, too.Right?
Devious Devgun
No, there is no falling out between Ajay Devgun and Kajol — yet. Reports in a section of the press were not quite true. However, there is another poser: Is Ajay sweet on a young, beautiful girl he met while shooting in Hungary, recently?
To the extent that she has travelled to Mumbai in order to be with her cine sweetheart! And which may be the reason why devious Dev is bunking a lot of shootings nowadays...
Bravo Raveena
One ought to give credit to Raveena Tandon for not letting the personal upheavals in her life get the better of her. Despite everything going terribly wrong for her off screen, on screen (or, more appropriately, on the sets) she's putting in extra effort to ensure that everything goes terrifically right for her career-wise.
She's going about her shoots with a lotta attitude... and big, big smiles, at that. She welcomes friends and Press persons and has no hesitation in posing for pix (even in rather revealing 'undresses'!) Looks like the second coming of ravishing Raveena is in the offing, friends.
Nice Neha
On the other hand, the pretty, teenaged debutante of Kareeb, Neha, is being deluged with compliments and kudos — left, right and centre. Not only have viewers been zapped by her fresh looks, but even the film critics have written rather rave reviews of her acting talent.
Neha, whose real name is Shabana, is basically a Delhi girl who got the most lovely surprise of her life when she was picked to be the leading lady of Vidhu Vinod Chopra's Kareeb. (Actually, it was Saurav Shukla, the co-writer of the movie, who met her at a party and set the ball rolling.) And a new, shimmering, smiling star was born...
"I'm so happy," gushes Neha, "but frankly, still a little stunned with my overnite stardom! In fact, now, Idon't even mind that I had to change my name! Neha's nice too, isn't?" Any wonder then, that all the filmmakers are falling over each other to get kareeb to her, uh?
Merry Mahima!
And the other comely who appears to be having a gala time, happens to be none other than Mahima Choudhary. Notwithstanding rumours of her being dropped by certain producers (under pressure tactics from mentor-turned-tormentor Subhash Ghai?!) She is apparently having a party of a time!
She admits she doesn't have "a bagful of films in hand," but goes on to add that she's enjoying the work she is doing. "Hey! I've just started my star trek. Cine buffs have only viewed me in the showroom — wait till they catch me in the godown!" Mahima chuckles wickedly.
Rumour has it...
... that Chandrachur Singh is in love. All I can say at this time is that it's a lovely female — not a hirsuite male! You could call it humour on the "chest", yeah? So go ahead and guffaw!