TELEVISION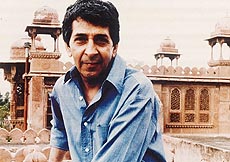 Recalling
the Raj
A NOT-TO-BE missed series, BBC's One foot in the Raj is all about India of the past we are so fascinated with but may know so little about. One of the best episodes in the series is about Delhi's St. Stephen's College. Actor Roshan Seth, best known to international audiences as Nehru in the film Gandhi and for the title role in the acclaimed BBC drama serial The Buddha of Suburbia, is fascinated by the Indo-Saracenic architecture of St Stephen's College in Delhi where he was a student.
We are informed that it was built by Colonel Sir Samuel Swinton Jacob, a well known military architect who fell in love with 'native' style. In later years he built superb palaces in Rajasthan for the local maharajas — most famously, the Lal Garh in Bikaner. Roshan Seth travels to Bikaner to find out more about his hero and is awestruck by the palace, a spectacular marriage of East and West.
A very informative and entertaining show which reveals some little known facts about a college which has become an institution not just of Delhi but of India as well.
Birthday bash
It was a birthday party to remember Star Yaar Kalakaar which turned one on July 23, had a surprise in store for viewers when it pitched the new singing sensation Sonu Nigam against Bhappi Lahiri who first cut a big star-shaped cake.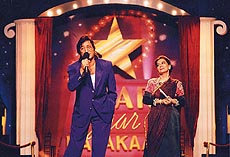 But a more pleasant surprise was to come later when it was announced by Sony TV that it had been adjudged as the number one music countdown show. Which explains why it has so willingly been granted an extension of 100 episodes. The show is also likely to be shifted to a more visible prime time slot.
It was smiles all round and more so for Sony TV officials as the countdown programme is attracting a number of high-end sponsorships, which has made the channel shift the show to a prime time slot.
And those who have seen it would willingly agree that thanks to the efforts of anchor Farida Jalal, Star Yaar Kalakaar has a certain freshness about it which is missing in a number of other drab countdown shows.
Starry dreams
What's a mechanical engineer and a senior researcher with the IIT got to do with acting? Plenty. That is, if his name happens to be Rajeev Anand, the young man who gave up his career to become one of the top models and now a star on television.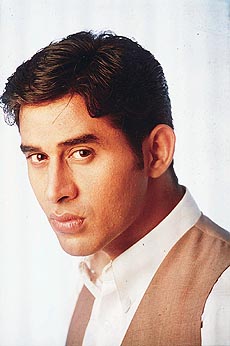 After a number of TV ads for top organisations, Rajeev was bitten by the acting bug. Recognition came with Yeh Ganga Hai where he played an NRI. After that there has been no dearth of offers. Serials like Tarap, Abhimaan, Rishtay, Isi Bahaney and many others have followed.
Besides there have been telefilms like Smritian and Rishtay as also a feature film in Japanese in which he co-starred with Anupam Kher and Suresh Oberoi. Now he's been offered a role in K. Balachander's yet untitled film. Rajeev has also done a short film for French Television which is scheduled for early release.
But now that Rajeev feels he's got the best role so far in Muqqadame, a serial on the Indian National Army where he plays the legendary Major Gurbaksh Singh Dhillon, one of the right hand leaders of Netaji Subhas Chandra Bose.
"It's a serial I am enjoying doing the most. It gives me a sense of pride to play such a great freedom fighter," says Rajeev who is now eyeing Bollywood for a bigger chunk of the acting pie.
Bringing up daughter
How should daughters be brought up — in a strict or a liberal family environment? That's the question which Aashirwad on Zee tries to tackle. It's a tale of two friends growing up in diametrically opposite family cultures. Preeti's father, Purushottam Chaudhary, is a strict disciplinarian and Amita's father, Deshmukh believes in freedom for boys and girls.
Despite her somewhat suffocating family atmosphere, Preeti falls in love but her father forcibly marries her off to a rich businessman. Expectedly, the two soon drift apart. Preeti's brother, Subhash and her friend Amita, who've been secretly in love too get married. Again the father who's been against the liaison forces them to stay separately.
Even though Amita's liberal father Deshmukh doesn't want to upset Chaudhary, his daughter's happiness is more important to him. They both sit down and start debating who's right. Has Deshmukh been too liberal? Or has Chaudhary been too strict?
But that's not the end. In fact that's only the beginning as the story starts taking strange twists and turns making a meaningful narrative into a confusing and a complicated serial and making viewers wonder whether the script writer suddenly changed mid stream.
So, if you like social themes watch the first few episodes of Aashirwad and then forget about it.
In defence of music
IIt had to happen. Producers and script writers running out of ideas for countdown shows are now training their cameras on to people who may have no relation with film songs apart from a normal viewer interest.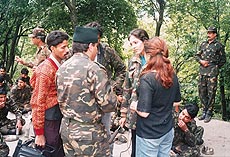 Sainik, as the name suggests, is about the armed forces and has been shot on different defence locations in Srinagar, Gwalior and Jodhpur.
The show which started airing on DD Metro from August 13, has anchor Malini Sharma highlighting the role of the forces in counter-insurgency, anti-warfare tactics and other serious activities and intersperses these with songs and film clippings.
"There's a public fascination for the armed forces and this is evident from the success of the film Border," says the handout and adds, "It's a tribute to the army air force and navy on the fiftieth year of independence." Let's hope Sainik is music to the ears of our defence forces.