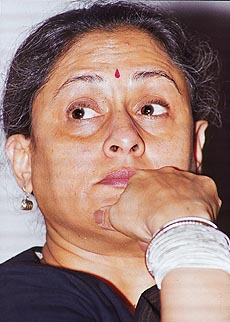 "I will not allow anyone to dictate terms to me"

FROM the early '70s, when the petite Guddi made us realise that the girl next door could also make it big in tinsel town, Jaya (Bhaduri) Bachchan has been a household name in the country. Highly talented, she left us spell-bound with the natural ease with which she emoted in movies like Uphaar, Sholay, Mili, Abhimaan, Koshish, Shor Parichay and Zanjeer.
When she was at the zenith of her career, she married the phenomenon, Amitabh Bachchan, and went into a self-imposed exile. She resurfaced in the controversial film Silsila, and now in the critically acclaimed Hazaar Chaurasi Ki Maa.
In between, she weathered many a storm. Imprinted on our collective consciousness is the image of a woman devotedly nursing her husband back to health from a near-fatal accident, or campaigning for her him in Allahabad in the 1984 elections.
She fought back the Bofors accusations levelled against Amitabh with grit and determination. Today, as a '90s woman, she is running her own small corporate empire, besides being a doting grandmother.
Jaya recently visited Chandigarh to promote Hazaar Chaurasi Ki Maa. Age sits well on her – graceful silver-grey, her face devoid of make-up and attired in a simple cotton saree, she looks an average middle class woman. But when she speaks, she is sure and confident. It is while talking to her that you realise the steely determination that made her what she is today.
Jaya makes no great statements for effect and speaks in even tones. Though she is extremely polite with everyone, yet she maintains her distance. Belu Maheshwari met her for one of her most extensive interviews in recent times. Excerpts.
Of all your movies, which one left an impact on you?
I won't remember all of them. I think, definitely Koshish. It was a learning experience. I went through the whole process of understanding how people with impaired hearing communicate. This led me to social work. It planted the seed of helping the handicapped.
Not much is known about your social work....
Not much is known because I hate anything that draws too much attention and focus on me. I get enough of it otherwise.
I have been working for the last 20 years with the Indian Society for the Rehabilitation of the Handicapped. It is a low profile organisation. Everyone works voluntarily, though we have a number of professionals helping us.
We train children in different fields, hold competitions, give scholarships and awards.
I contribute to society through the medium I know. We do a classical ballet every year. These children have performed even in America. They are very good. I would like them to perform in Chandigarh also.
You were chairperson of the Children's Film Society. The society has not been able to make a mark. Why?
I was there for 10 years. It is an organisation basically known by who heads it. Personally, I feel no organisation can grow if it cannot sustain itself on its own. Though it is supposed to be autonomous, unfortunately, it is too bureaucratic. Well, I really did try to change the system. I wanted to hire professionals. Everyone looks at you suspiciously, even if you spend a rupee, you are answerable. There is constant government monitoring. Anyway, not many people were coming forward to make children's movies.
Why have you refused to join politics? Aren't you being an escapist?
I agree with you. Yes, I am being an escapist but everyone cannot be everything. I have seen politics from close quarters. I know what happens. You are so busy keeping your position intact that you hardly make any contribution. Look at Parliament. What is happening there, anyway?
You were being nominated to the Rajya Sabha where you could have raised your voice on crucial issues.
My father-in-law was a member of the Rajya Sabha for two terms. In those days people could still do something. Now people do not trust politicians. There are many artists in politics and let us see what they do. I can raise my voice on issues even from outside. I do not need to be in Parliament for that. I get too involved in everything I do. My energies will get sapped trying to fight the system. Whatever you may do, they will not let you speak.
What or who is the real Jaya — the traditional wife, or the shrewd corporate head?
I think both. I think Indian women, in fact, women in general, have a tremendous capacity to give. They can run an organisation well because in some ways it is like running a home; it needs a method. They are working and managing all the time. Time management is so important. It comes easily to me.
How do you feel about the time you did not work, or, as you have said, work did not come to you?
I have been lucky. God has been kind; everything happened to me at the right time. I never announced that I am not going to work, though people find it hard to believe that I was not getting work. At that time my children needed me, my husband was so busy. I had to be both a father and a mother to them.
When my children grew up and went to boarding schools, I became chairperson of the Children's Film Society, then Saraswati Corporation happened.
Now my children have grown up. My daughter is married. I really don't have to protect anybody physically at the moment. Emotionally, I am there for my son. He is my priority. If my son says I need you, don't go to work, I will not. The security there I got from my family, I want to give to my children. If I have achieved anything at all, it is because of the support, security and values given to me as a child.
Do you feel the persona of Mrs. B kept the producers at bay, or that marriage hindered your artistic growth?
Producers stopped coming. Maybe, they thought how could they go to Amitabh Bachchan's house. It was not my fault. I always said that if I get a good role I will work. Marriage did not hinder my artistic growth.
It is, anyway, a hypothetical question. What kind of roles were being given to women? There was the parallel cinema where you had a Shabana and a Smita, what happened? Was there anything challenging which I missed?
What are the values you have tried to pass on to your children?
A bit of traditional values, a bit of scientific, modern values; Indian and western both, because we have the influence of both cultures in our house. I have always said that I would rather have you as good human beings then as successful scientists, doctors or actors.
There are a few things which are absolute nos, in the house, like lying, hiding etc. You hide when you have done something wrong. I do not believe in sitting and talking to the children, I believe in living the life that I would like them to imbibe.
Was ABCL not set up prematurely? The film world, it seems, was not ready for corpo-ratisation.
Everyone is doing it without giving it a name. Every producer, who is somebody, is doing what we started. ABCL was a vision my husband had. When you have been so popular, been part of a certain genre of cinema, you travel, you see what kind of credits are given to actors abroad. This is not happening in India because here we have no system.
Corporatising is there without saying it. It is like this, if in India you say you are ambitious you are criticised. One does not know for what. If ABCL had earned money it was not going to make Amitabh richer, the shareholders would have benefited. The money would have been reinvested in the film industry. Amitabh was earning as an actor, his kitchen was running from that income. In fact, he lost what he had. He had to put his savings into the company when it went downhill.
Who guided you in your film career?
Nobody. Professional dignity came to me naturally. I had seen my father maintain it. I never did wear skimpy clothes. They used to approach me to show a little. In Shor, I was supposed to wear clothes which were suggestive. I told Manoj Kumar, I would not do it.
Do you feel girls today can also succeed the way you did?
Of course, they can. The most important thing is you should know your job and have the confidence. I know film-makers who have later cast me but when I passed out from the institute, they said, "Theek hai, she will be okay for character roles". They never thought I would make it as a lead heroine. That was a challenge. At that time, every heroine was over the top. No girl going to college could think of dressing the way heroines in movies did. I may sound as if I am bragging, but girls felt closer to films when we joined because we were like them. We brought cinema closer to the people.
Some critics feel you have fixed mannerisms, like the way you laugh. In fact, your best movies are the ones which have the least dialogues.
The mannerisms are me. I laugh like that. It may sound pompous but I think Geeta Bali was the only actress who looked as if she was not acting. Meena Kumari walked through her roles. She was so natural, you felt, my God, there is nothing overt or extraordinary going on. Waheeda Rehman, under certain directors like Guru Dutt, gave good performances. Otherwise, I cannot remember any other heroine till the '70s. Even after that how many actors or actresses can you talk about who acted effortlessly?
Do you feel women are being portrayed in better light in films now, specially in movies like Mrityudand?
Certainly, even in a crass commercial film like Dulhe Raja, you see the heroine dictating terms. She is planning, plotting, conniving. She is smarter than all the men in the movie and has acted so naturally. People have enjoyed it.
Mrityudand is a wonderful film but again here the film-maker has a little condescending attitude saying look what I am giving to women. I have shown women as powerful objects.
What is your style of acting? Are you a method actor?
I am an instinctive actor but I was trained in method acting also. My professor Roshan Taneja, whom I respect after my father, guided me. He said, 'When you are undergoing training there are certain principles you have to follow. But once you pass out, forget them. It is all there, we have programmed you. Just press the right button and it will come'.
You are from the FTII. Don't you feel sorry at its position now? Have you tried to revive it?
Yes. I feel bad it has not maintained standard. Some institutions in this country do not move with the times. They have to change, modernise. I tried to help. Sometimes the faculty did not listen, sometimes the students.
You are supposed to be an impatient person.
I am. I like to do things. When people do not move. I feel like saying, just get going. I should have been in the Army.
What are your future plans?
I would love to work. I am in a great mood to act, even contribute to the revival of the parallel cinema. I want to see India progress in the field of cinema as it did in Satyajit Ray's time.
There has been a rumour which has persisted about your marriage. Most people believe you are the long-suffering Sati Savitri. Why did you not refute it vehemently if it was not true?
This is where my husband and I differ. I would not give a damn. For me, it is a humiliating thing. I have no respect for the people who started it and continued it.
Amitabh says we should have refuted it, so whenever something is out, even though he sounds repetitive, he refutes it. The persistence of the rumour shows the power of the media. I came from a media family. My father believed in values, which today's media has forgotten. They only bother about marketing.
I don't give a damn, I don't care. I am standing here very well. I have never cared about what people think. I have done what I feel is right and I will live by it. Why should I refute? I do not give it any importance. It is a weakness to fall prey to such things and I am not a weak person at all. I will not allow any person to dictate my life. I will not let any person make me say this is not true and that is not true. I do not believe in it and I am not going to do it.