The original Liril girl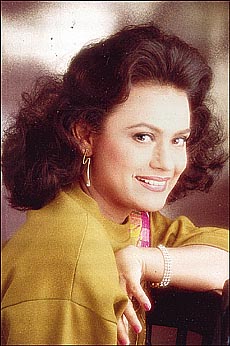 By Vimla Patil
EARLY this year, Karen Lunel-Hishey went to Kalimpong in the Himalayan hills to celebrate Losar, the Tibetan new year, with her in-laws for the first time. She is not a new bride, nor is this her first visit to Kalimpong. Scott, her son, is nine years old and she and husband Tashi Hishey have visited Kalimpong many times. Indeed, they were married there in a Buddhist ceremony. But this year's celebration of Losar was the authentication of Karen's present lifestyle. A young girl who was a mini-darling of the catwalk in the 70s, a numero uno model for the Liril campaign, Karen now in her 40s, has become even more beautiful and full of life. With a rare spirit of adventure, she explores her new Tibetan family culture and enjoys every festival or family occasion with the Hisheys in Kalimpong.
"Losar comes in February, near the Chinese new year," she says, "Tibetan Buddhists get up early, gather in the family temple and share Darshi — a sticky rice and raisin sweet and fermented tea with butter. We all wear Tibetan robes and are blessed by Kusho-las, the priests. Our festive lunch comprises gyacko or Mongolian steamboat with soup stacked with all kinds of meats. There is roast mutton, beef, chicken and a variety of vegetables. Then for dinner there are thukpah or noodles, momos or dimsums and wonton or pece soup. The Tibetan Buddhists have an elaborate altar with many deities — the Buddha, many goddesses, Hindu icons — included in the prayer. Every Tibetan home must have a prayer room. It is often the largest room in the house. Bhog is offered to the gods consisting of kwachi, which are like large sugary kalkals, khapse or large roti-like biscuits, fresh fruit, sprouted wheat and barley and bowls of tea, curd, liquor and milk. The family makes and drinks a warm sherry-like millet liquor called chhang, which is very potent. The new year blessing or wish is expressed in the words: Tashi delek."
Tashi, meaning joy or blessing, is also Karen's husband's name. A devout Buddhist, he works for Air-India and has a large family in Kalimpong, a hill station which nestles in a valley between Darjeeling and Gangtok. The language the Tibetans speak there is a dialect of Nepali. The main business in Kalimpong is schools, orchid gardens, fruit orchards and tourism.
Karen, who made major waves as the first Liril model to wear a swimsuit and dance under a cascade, and was a catwalk beauty in the 70s, met Tashi in 1980 when she was a hostess in Air-India. They were married in 1985 in Kalimpong. "The ceremony was held in our prayer room with many Kusho-las reciting prayers and offering blessings in the Tibetan language which only Tashi's mother understands," says Karen, "In these hills, there are few flowers. So a Tibetan couple exchanges khadda or silk scarves as garlands. The gods get khaddas too. When the ceremony was over, we received khaddas from our elders and friends. My in-laws accepted me totally and loved me instantly. I am a devout Catholic but this has made no difference at all. Tashi's paternal grandmother was a Hindu, so all religions combine in our home. My son Scott says Tibetan and Christian prayers, and knows both cultures. I also believe in all religions."
Karen's flying career with Air-India came to a halt when motherhood became more important. She stayed home to bring up Scott and do justice to motherhood. But a career was inevitable. To begin with, she became a Times FM disc jockey and anchored two programmes every week. That was fun but an airline career still held a magnetic attraction. When Scott was old enough, she chose to be the chief training executive for a private airline and now trains batches of cabin crew to serve passengers perfectly. Since this is a ground job, she is with her son every day and keeps a lovely home in suburban Mumbai as a proud home-maker.
Karen looks the same after 20 years. Her figure is lithe, her eyes dance with excitement and her narrations are picturesque and full of life. Tashi and she are making a life together and bringing up Scott in a quaint Tibetan-Indian mix of culture and heritage.
Star folio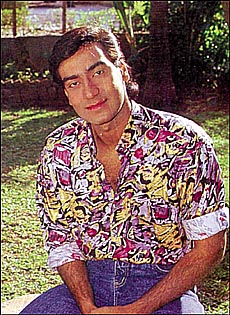 Name: Ajay Devgan Real Name: Vishal Devgan
Birth: February 2, 1969
Background: Son of fightmaster Veeru Devgan
Hobbies: Driving, playing snooker and cricket and listening to western music and old Hindi songs.
Favourite wear: Shorts and jeans
His first film Phool Aur Kante (1991) was a big hit. Madhu was his heroine and Kuku Kohli the director.
His other hit films are: Jigar (1992) with Karisma Kapoor, Dilwale (1994) with Raveena Tandon, Vijaypath (1994) with Tabu, Suhaag (1994) with Karisma Kapoor, Najayaz (1995) with Juhi Chawla, Jaan (1996) with Twinkle Khanna, Diljalae (1996) with Sonali Bendre and Madhu and Ishq (1997) with Kajol.
This year he has had only two releases — ABCL's Major Saab and Baba films Pyar To Hona Hi Tha. Major Saab could not make any impact on the hearts of viewers while Pyar to Hona Hi Tha has had a lukewarm response at the box-office.
He has done the maximum numbers of films with Karisma Kapoor. These are Jigar, Sangram, Shaktiman, Dhanwan and Suhaag.
He has so far done 25 films in eight years of his career in Hindi films.
Currently, he is busy with his ambitious project Hindustan Ki Kasam, which is also his first home production and is being directed by his father. Amitabh Bachchan has a special role in it, while Manisha Koirala and Sushmita Sen are the leading ladies.
His other forthcoming films are Takshak with Tabu, Singer with Shilpa Shirodkar and Nagma, Gair with Raveena Tandon, Kachche Dhaage with Manisha Koirala, Chhalia with Tabu and Sar Utha Ke Jiyo with Madhu.
— R. K. Verma