A rare liver transplant
NEW DELHI, Dec 5 — Doctors at Indraprastha Apollo Hospital here have successfully performed a living-related liver transplantation on an 18-month-old boy, the first of its kind in the subcontinent.

What lead to Academy flare-up
DEHRA DUN, Dec 5 — What was projected as a rampage against Guru Ram Das Academy here on December 2, basically turned out to be an ownership dispute over "20 bigha zamin" vacated by Tibetans.


Today's issue comes with the
Book Review and Sunday Reading sections


IN PASSING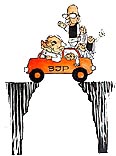 Atalji, we can include some more ministers!
By Sandeep Joshi