Stars smile on Akshay
By Madhur Mittal
ALL those heroes and industry people who have been smugly smiling over Akshay Kumar's "goodbye act" had better prepare themselves to say hello to him again. Because it appears that the actor is going to outpace everybody with his second coming......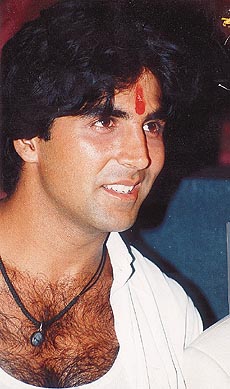 Leading the way with this prediction is a famous filmland astrologer, who is renowned for being uncannily accurate in most of his soothsaying. According to him, "there was a particularly negative configuration in Akshay's (heavenly) stars during the most part of '98. So much so that the planetary prism adversely affected him in the most unthinkable manner. His career, love life and even the relationship with his parents and family were affected. But Akshay has braved the worst and now, all he can look forward to is happiness, satisfaction and success. Mark my words, 1999 will be the year of Akshay Kumar's comeback......"
When Akki reads this (or hears of it), he's going to flash that devastating smile of his and holler: Jai Mata Di!
Sunil's Astro Mischief
There can be no denying that Sunil Shetty indeed has a special, soft spot for children. Not too long back, he and wifey Mana had tied up with the Times publishing group to bring out a special series of storybooks and audio-visual educational software. And now, he has gone and opened an exclusive, hi-tech games arcade bang in the middle of Mumbai! Appropriately, it's called Astro Mischief.
Intended as a Children's Day gift to the children of this megapolis, the unique happening place was inaugurated formally by informal film friends — Jackie Shroff and Aishwarya Rai. While some of the consoles are free, the more expensive machines (such as the virtual reality games) come for a price — a very affordable Rs 4/- per minute only!
Hey! That speaks aplenty for the Good Samaritan.
The angry young actor
Aamir Khan is really on a tongue-lashing trip these days. At the receiving end are some top filmmakers.
To quote, "Ram Gopal Verma isn't just two-faced — he's four-faced! I would trust a cobra but not Verma! I want to stay as far away as possible from that man. He's poison!" Coming to Mahesh Bhatt, Aamir says "he is so pathetically lazy that he just doesn't want to work; all he wants is to pocket the money and go home! On top of that, Mahesh is the most careless director I've ever come across. He's sick!" And our angry, young actor doesn't spare Yash Chopra, either. "Yashji is frankly, a highly confused and mixed-up man. I think he needs to take a long, long holiday."
One sincerely hopes Aamirbhai (in this mood) doesn't decide to write a book.
What's cooking Jackie?
It has been said often (and rightly) enough that there can be no smoke without fire. If something keeps cooking for too long, it may be possible to hide the pot but definitely not the broth, which is bound to spill over.
Much the same seems to be happening between Jackie Shroff and Anu Agarwal. Of late, the duo has been spotted making a cosy two-some at various hang-outs such as the Cyclone disco and the Sheriff (Mexican) restaurant. What's more, they have been started attending glitzy functions hand in hand and disappearing the same way together!
Has the slim Agarwal resurrected an old alliance or is Jaggu dada becoming desperate?
I guess we'll soon be hearing from Ayesha Shroff.