BJP to back govt on insurance Bill
NEW DELHI, Dec 8 — Taking recourse to the practical terrain of realpolitik, the BJP today decided to back its government on the controversial Insurance Regulatory Authority Bill, shedding all ideological pretensions.
While a patch-up was reportedly arrived at a marathon four-hour meeting of the central office-bearers of the party at the Prime Minister's residence last night, attended by Mr Kushabhau Thakre.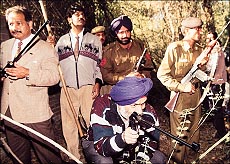 Chhat Bir Zoo Director Venod Sharma, and Chandigarh Chief Wildlife Warden H. S. Sohal carry tranquilliser guns as policemen, armed with SLRs, comb the forest area of the CSIO in Chandigarh on Tuesday for a leopard that could not be spotted. — A Tribune photo by Gautam Singh.
(Story on Chandigarh page)