Panel to study
proposed checks
in Article 356
NEW DELHI, Dec 19 — The standing committee of Inter-State Council today set up a sub-panel to examine afresh proposals for introducing safeguards in invoking Article 356 of the Indian Constitution and presenting a report by January 10 next year.

India, Pak expel staff
ISLAMABAD, Dec 19 — India and Pakistan expelled one staff member of each other's High Commissions in New Delhi and Islamabad on charges of espionage.

AISSF chief warns
Talwandi
AMRITSAR, Dec 19 — Mr Harminder Singh Gill, president, All-India Sikh Students Federation, has threatened Mr Jagdev Singh Talwandi, president, SAD disciplinary action committee, that he would be gheraoed if he acted in a "partisan way and indicted Mr Tohra".

Clinton impeached in historic decision
WASHINGTON, Dec 19 — In a historic decision, the US House of Representatives today impeached President Bill Clinton.

Livingstone sets precedent
WASHINGTON, Dec 19 — Speaker-elect Bob Livingston told the US House of Representatives that he would resign for his marital infidelities and asked the President to follow suit.
Fourth night of destruction
70 killed in strikes: Iraq
DUBAI, Dec 19 — The USA and Britain continued their aerial onslaught on targets in and around Baghdad for the fourth consecutive night today.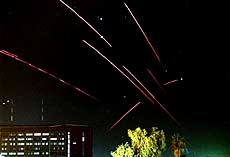 Red tracers of Iraqi anti-aircraft fire light the sky over Baghdad early Saturday morning, as the first day of the Muslim holy month of Ramazan started. — AP/PTI