President seeks
Supreme Court's view
What is CJI's role in
selection of judges?
NEW DELHI, July 27 — In an unprecedented turn to the controversy over appointment of judges, the President today asked the Supreme Court to decide whether Chief Justice of India (CJI) could make recommendations for appointments without following the consultation process and whether such recommendations would be binding on the government.
The reference by President K.R. Narayanan followed doubts expressed about the interpretation of the law laid down by the Supreme Court in this regard.
Union Minister Ram Jethmalani had contended that recommendations had been made without following the due process of consultation.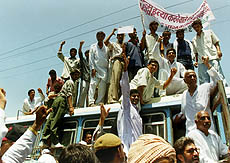 Haryana Congressmen and members of the state's Krishak Samaj court arrest in support of their demands in Chandigharh on Monday.
—Tribune photo by Manoj Mahajan

Stage set for PM-Sharif talks
COLOMBO, July 27 - Colombo looks very much like Chandigarh of the eighties with the Army helping out the civilian police in providing a foolproof security cover for the 10th SAARC Summit.

SAARC summit to focus
on fiscal cooperation