USA blacklists 240 Indian units
Sanctions to focus on N-needs
WASHINGTON, Nov 14 — The USA has brought out a list of 240 Indian and over 140 Pakistani government agencies and companies which have been barred from importing American products. A senior State Department official said that the lists include government agencies and their affiliated lease companies.
India calls it "unfortunate"
BJP expels 4 rebel candidates
NEW DELHI, Nov 14 — The Bharatiya Janata Party today expelled four rebel candidates, including two sitting MLAs, after they failed to retire from contest for the Delhi assembly poll.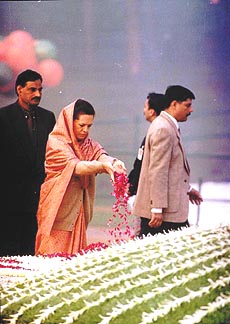 Congress President Sonia Gandhi at Shantivan on the 107th birth anniversary of Pandit Jawaharlal Nehru in New Delhi on Saturday.
— PTI