She was almost number one
By Rakhee Gupta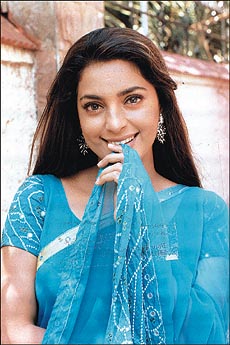 TILL the other day, she was regarded as the only serious challenger to Madhuri Dixit's position as Bollywood's reigning box-office queen. With three successive hits — Yes Boss, Deewana Mastana and Ishq — there seemed to be no stopping Juhi Chawla from making it to the top.
And then, Saat Rang Ke Sapne happened, followed by Mr And Mrs Khiladi and Duplicate all three flop — that completely offset the advantage she had gained since her Hum Hain Rahi Pyar Ke days. So what went wrong with this former Miss India?
"Wrong career moves", she blurts out. "To give an example, I refused Prakash Jha when he approached me with Mrityudand. I suggested he make a commercial film with me instead. So he made Bandish with me and Jackie. For Mrityudand, he signed Madhuri Dixit.
"And now see what happened. Marityudand, despite being an arty-arty film, ran on to full houses and brought Madhuri dozens of awards. And there Bandish, made by the same film maker about the same time, sank without a trace! I have made many such wrong choices."
Another well-known example is her refusal to Priyadarshan's Viraasat which eventually brought Tabu the national award for best actress. Juhi's explanation then was that she had just done a similar role of an illiterate village belle married to Anil Kapoor in Andaaz.
"After almost 15 years in the film industry, the only lesson I have learnt is that nothing can be said about what makes or does not make a hit. I know I am passionate about acting. But there is a lot of insecurity here. And I have handled it very badly."
In a lighter vein, Juhi points out that her only regret is being born "a generation ahead. Even now she yearns to be part of the generation of Waheeda Rahman, Nutan, Madhubala and Meena Kumari when films were more heroine-oriented.
"I didn't want to be an actress in the first place," she points out. "I wanted to be a playback singer and I had even been asked to croon for some films while I was studying. But soon after the Miss India title, everything changed. I found myself as an actress."
Juhi's first film was Sultanat an opulent costume drama that did not last a week in the theatres. But the second film, Qayamat Se Qayamat Tak with Aamir Khan, took Bollywood by storm and Juhi Chawla became hot property overnight.
Today, looking back, she feels she has had a full life: "I have had my highs and lows with big disappearing without making an impact, whereas small ones, unexpectedly turning out to be superhits. That is why I say this is the most unpredictable place to be in."
At the same time, she maintains she would not leave films for anything else. "I do go through phases of depression when I am miserable about something but I do not show it. I would then like to be surrounded by people. I hate being alone, because the mind plays strange games."
How about branching out into direction or producing films?
"No, but maybe, after a few years, I will take up television, do some lead roles there or perhaps involve myself in making serials with a partner or someone I know. I would always want to do something related to acting. Like I said, I am passionate only about acting."
And what about marriage?
She comes straight to the point: "Everybody knows about Jai (Mehta). He is the best thing to have happened to me. I do not know what I would have done without him. When we get married, it will not be a secret. I will let the whole world know."
As an afterthought, she adds: "I don't think I should be talking about marriage because whatever producers I have left, would run away. We still live in an age when Hindi film heroines cannot afford to get married, unless they are through with their careers."
That is another truth Juhi has learnt, being in the film industry.