Advani meets President
Speculation rife
on Bihar
NEW DELHI, Sept 29 — In a major development, Home Minister L.K. Advani today met President K.R. Narayanan to discuss Bihar amidst speculation that the government may send back its recommendation to impose President's rule in the state. A Rashtrapati Bhavan spokesman, however, described the 30-minute meeting as "routine".

Debate call a cover-up, says Left
NEW DELHI, Sept 29 — The Left today dismissed Home Minister L.K. Advani's suggestion for a national debate on the use of Article 356 saying the government was trying to 'cover up its mistake'.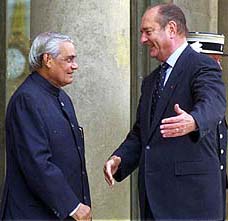 Prime Minister Atal Behari Vajpayee with French President Jacques Chirac at the Elysee Palace in Paris on Tuesday. — PTI photo
India, France name envoys
From Hari Jaisingh
PARIS, Sept 29 — India and France today decided to designate special envoys for initiation of strategic dialogue between the two countries which will have special focus on political and economic ties and cooperation in civilian nuclear energy.