More answers about exercise
By Anup Deb Nath
MANY of us think of helping our bodies by eating right as well as exercising regularly. We often have limitations that prevent us from achieving the targets that we set ourselves in this quest.
Some of us feel we are just too out of shape and overage to start with any exercise that will seem to make a difference to our bodies, others are just not committed enough to stick an exercise or diet routine though while many others have a problem in picking the right diet and exercise plan which will be enjoyable and beneficial. Here are some answers to questions about exercise.
I'm keen on joining a health club and confused on what to look for. Some gyms are less expensive but the euqipment that they offer is more basic while the expensive ones are more up-market and have modern equipment?
Major cities in India have been bitten by the fitness bug and have a number of health clubs and gyms. These give people the option to shop around for a place that fits their individuals requirements.
Of course there are some basic requirements that should be met by gym you select . You would need to go and see the facilities they offer carefully before you sign up in any of them. Cleanliness, maintenance, price as well as proximity to your home are factors that should be met by the gym you select.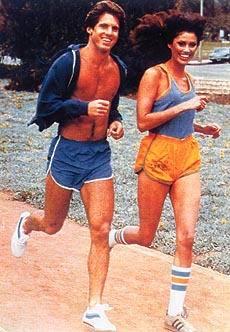 In case you are joining a gym, see equipment that the place offer. Modern , well-maintained equipment is certainly much better than creaky old machines. You should be able to get aerobic exercises to maintain your target heart rate for a minimum of 30-35 minutes, four-five times a week.
This would include machines like the treadmill, stepper, exercise cycles or then the availability of an aerobic class to join into alongside. You should also have machines to improve your muscle strength, endurance and flexibility.
You also need to see how crowded the gym is and how long you would have to wait in order to use the machines. If there are too many people and too few machines it would mean you would waste lot of time in the queue or skipping certain machines that are more popular and in demand.
Whether you join a gym or an aerobic class, you need to check out the instructors. Don't simply go for the sweet talking instructors particularly the ones who tell you that you have a good figure, have lost a lot of weight etc.An instructor who pushes you to achieve more can be hard task-master but is often better as he will push you into achieving more than you normally would.
Often a handy way to gauge a good instructor is to find out if he has any basic training in fitness or has been in a field where he would have learnt about human anatomy and have basic technical knowledge. Also, if the insructor himself has a fit body then there are good chances that he would be able to help you reach this goal as well, while an instructor who is not very fit or toned himself is probably not going to be able to help you much.
I have joined an aerobic class and really enjoy the step aerobic class there. For the last month-and-a-half, I have developed knee pain. Is it due to the step aerobics? If so, where am I going wrong? Is it true that women are more prone to knee injuries than men?
Step aerobics is a great way to work out and lose weight. You, however, have to be careful that you don't injure yourself in the process. Like any form of exercise (if done correctly) step aerobics doesn't make you more prone to injury or particularly to knee problems as is commonly thought.
Well, the knee is a complicated joint and the cause for your knee pain could be any number of reasons. It is best to get yourself checked up by a good doctor to determine the cause of your knee problem.
Working out correctly while doing step aerobics means that your body sould be well-aligned with the head up, shoulder pulled back, and stomach pulled in. Be careful not to lean forward from the waist, as this will put pressure on your spine and knee.
While stepping on the stepper place your complete foot on the stepper and your leg should be slightly bent at the knee, never at 90 degree. Though Reebok recommends 60 degree as the best . While stepping down your foot should be near the stepper and your foot should contact the ground in a toe, ball and then heel motion to best asorb the shock.
Two other considerations to keep in mind if you have knee problems are to avoid using weights while doing step aerobics and secondly to not put the stepper on the higher gradients. Also keep your workout to a lower intensity.
Yes women could be more prone to knee injuries than men. Women have wider pelvises which turn the knees at a further angle inward than men. This angle could be the cause to knee pain and, in extreme cases, can be the cause of kneecaps sliding out of their usual positions, resulting in severe knee pain. Most women tend to have weak thigh muscles, which puts more pressure on the knees. Exercising the area can strengthen the weak thigh muscles.