The abode of Baba Vadbhag Singh
By Kuldip Dhiman
A SEQUESTERED spot in a deep ravine houses famous gurdwaras Dehra Sahib, Manji Sahib and Beiri Sahib. Millions of pilgrims gather here every year during Baisakhi and Holi. Life gets disrupted as the tiny hamlets of Nehri and Mairhi are flooded with devotees. All roads leading to Mairhi are blocked and vehicular traffic is held up for hours on end. As there are not enough sarais, dharamshalas and hotels, every inch of the hillside gets covered with tents.
The ancient gurdwaras Dehra Sahib, Manji Sahib and Beiri Sahib were founded by Baba Vadbhag Singh. The pilgrims also take a dip in the cool waters of the Darshani Khud, also called the Charanganga, which is supposed to ward off evil spirits. It is believed that when Baba Vadbhag Singh chose this beautiful, secluded spot to meditate, he learnt that the place was full of ghosts and evil spirits. The most powerful spirit was of Nahar Singh.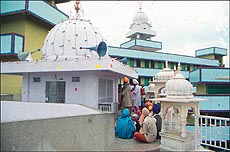 The spirit tried to overpower Baba Vadbhag Singh with its evil force, but was in turn captured by Baba. Nahar Singh surrendered and pledged to protect the valley from other evil spirits. Thus Baba Vadbhag Singh made Mairhi his spiritual home.
Baba Vadbhag Singh was born to Baba Ram Sodhi and Mata Raj Kaur when the atrocities inflicted by the invading Mughals were at their peak. Vadbhag Singh, even at the tender age of five, would listen intently as his mother read Gurbani and other holy scriptures. Realising that his son was a child prodigy, Baba Ram Singh appointed some of the most learned scholars to coach his son in all branches of knowledge, including the martial arts.
Baba'a parents got him married to Radhaji. After her untimely death, he was persuaded to marry Sanghliji. Although Baba Vadbhag Singh was inclined towards spiritualism, he was forced to wield the sword as wave after wave of Mughal invasions, especially those led by Ahmed Shah and Nassar Ali, had created havoc in the region. When Nassar Ali attacked Kartarpur, Baba Vadbhag Singh fought valiantly but had to take shelter in the hills because he had only a handful of soldiers as compared to over 10,000 soldiers of Nassar Ali.
Not content with shedding blood, Nassar Ali burnt Gurdwara Thamm Sahib to ashes, razed many temples to the ground, raped and converted Hindu women to Islam, and slaughtered cows. To defend the honour of his country and religion, Baba Vadbhag Singh organised a band of soldiers and, with the help of Sardar Jassa Singh Ahluwalia, Kapoor Singh, Adina Baig and others, attacked the mighty army of Nassar Ali. In the ensuing battle, Nassar Ali was captured and later burnt alive.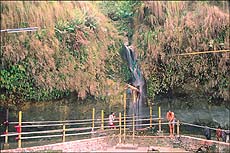 After the war, Baba wanted to retire to the hills in order to pursue his spiritual goals. While he bathed in the cool waters of one of the valleys, he saw the images of the 10 Gurus. Thus he decided to name it the Darshani Khud and the waters of this khud came to be called Dhauli Dhar or Charanganga.
Later he pitched the Nishan Sahib under a berry tree and began to meditate. But life was not easy as the valley was full of ghosts and evil spirits. The Baba had to fight with all of them. Due to his spiritual powers, he was able to defeat them.
The Baba constructed a gurdwara on a hill nearby and called it Dehra Sahib. Right across it is Manji Sahib, the place where the Baba used to meditate and relax. The Baba soon began to attract a large following and the place came to be known as Mairhi Sahib.
Mairhi is now in Una district of Himachal Pradesh. It takes about four and a half hours by car to reach Mairhi from Chandigarh. Any bus going towards Jawalamukhi, Dehra or Sujanpur will take you to Mairhi.
Fairly good accommodation is available at Mairhi. But during Holi, one must make prior bookings to avoid disappointment as the place is not well equipped to handle large crowds.