Youth held hostage on ship in Dubai
CHANDIGARH, Nov 13 — The lure of making it big has landed a Nawanshahr youth in trouble. His employers are allegedly holding him hostage in Dubai while a city-based woman agent and her associates pressurising his father to arrange for ransom or face the consequences.
Beat system to get boost
CHANDIGARH, Nov 13 —The beat system will be strengthened and more beat boxes and police assistance booths will soon dot the city.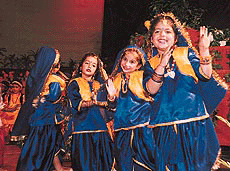 Colourful dances by kids
CHANDIGARH, Nov 13 — Colourful dances were presented by tiny tots of Bhavan Vidyalaya on the occasion of the school's annual day at Tagore Theatre here today.
Wife convicted of abetting rape
CHANDIGARH, Nov 13 — Nearly 13 years after a class VIII student was raped by a deputy superintendent of police, the UT Additional District and Sessions Judge, Mr. G.S. Sandhu, today sentenced the DSP's wife to seven years' rigorous imprisonment, besides imposing a fine of Rs 2,000.
116 recruits join ITBP
BHANU( Ramgarh), Nov 13 — It was a big day for 116 recruits of the 122 GD batch of the Indo-Tibetan Border Police Force who formally joined the force at an impressive passing out parade ceremony at Basic Training Centre, Bhanu, today.
| | |
| --- | --- |
| Functions on November 14 | Discussions on health |
| | |
Tree case: notice issued
CHANDIGARH, Nov 13 — On a civil suit seeking directions for declaring a "contract" for chopping 50 mango, neem and pipal trees as "illegal, void and against public interest", UT Sub Judge (Junior Division), Mr Naval Kumar, today issued notice for November 16.
Lively, animated discussion on city planning
CHANDIGARH, Nov 13 — The debate, though slightly off the subject — on "Future Urban Planning Issues of Chandigarh" was lively and generated animated discussions at the Sector 23 Bal Bhavan here this afternoon.

'Care for old needs attention'
CHANDIGARH, Nov 13 — Care of the old requires special attention because their dependence increases and the ability to stay alone decreases, said noted writer Bhisham Sahni at Panjab University here today.