Rani prefers 'rajaji'
By Madhur Mittal
RANI MUKHERJEE has acquired the enviable distinction of being a 'Khan specialist'. You see, Rani is the only heroine who has acted with all the Khans in her short career span in the industry. Funnily enough, she even started out with a hardly-known Khan — Shadaab Khan — in her first film Raja Ki Aayegi Baraat, followed by Mehndi with even a lesser known Khan — Faraaz Khan. Both films sank without a whimper.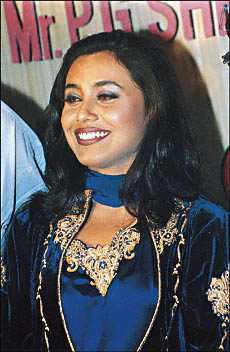 Then came Ghulam with Aamir, and it was as if Rani was rediscovered! Followed Kuch Kuch Hota Hai with Shah Rukh and it was as 1998 was declared 'The year of Rani'. This year opened with Rani doing a saucy song for dost Aamir's Mann and a couple of months later, it was Hello Brother with brothers Salman and Arbaaz vying for the Bongla babe's attention.
One would naturally presume that Rani, in her new avatar, would opt for the Khan's again! But no way. Rani, after acquiring star status and discarding unsightly kilos has gone on to sign 11 films with apna Govinda. Ask her and she coyly twirls her lips, "I think I have signed about five or six films with Chi Chi". I mean, my arithmetic is not all that bad or did Rani mean five plus six films? Is it some kind of lease or what?
Abbas - Mastan's masti
Abbas - Mastan, the director duo — after the success of their recent Baadshah — haven't launched a film called Masti ( as a follow-up to Ram Gopal Verma's Mast), but they have sure gone into a tizzy to make two films at a speed which can only be called breakneck!
The first film which is almost complete, has been shot in a non-stop schedule in Mauritius and stars Akshay Kumar, Bobby Deol, Kareena Kapoor and the famous model-turned-actress Bipasha Basu.
The second, Chori Chori Chupke Chupke will be launched as soon as we catch our collective breaths — with Salman Khan, Preity Zinta and Rani Mukherjee. How's that for speed?
Icing on the cake
Ever since item songs have been introduced in films, to pull the crowds in eight times out of ten they have magnetised the cash coffers. It's like, here you go to see a star-studded film, and the filmmaker decides to give you more than your ticket money's worth, by giving you a sexy song 'n' dance number by a popular heroine, who has otherwise no connection (!) whatsoever with the film. The result: paisa vasool.
The latest latka-jhatka number is by lissome Shilpa Shetty for Shool — Raveena Tandon's much-awaited film. Makes me wonder if such songs are just the icing on the cake, or in most run-of-the-mill movies — the cake itself!
Rivalry begins at home
Those who have seen Deepa Mehta's Earth aka 1947, are just raving about Rahul Khanna. The adjectives are never-ending, as are the accolades. "He's so charming and innocent", "he's got such an endearing, down-to-earth sex appeal", "he's a natural — so talented and unaffected". Well, if all these comments seem all too familiar, they are. Not so many moons ago, the media and the movie watchers were voicing similar thoughts about chhota bhaiyya Akshaye. It's only in the family, that's a relief — or is it?
Rumour has it
....that Jackie Shroff seems to have put the eclipse of his first home production Grahan behind him, and has started his next venture All the best with Sushmita Sen and three "big heroes". Quite an apt title!
...Rajiv Rai, after a self-imposed exile, is back in Bollywood and has finalised the cast of his next venture — Naseeruddin Shah, Akshay Kumar, Sunil Shetty, Bobby Deol, Aishwarya Rai and Kareena Kapoor. The film will, however, be shot in the UK. Better safe than nervous!