Govinda gets a new look
By Madhur Mittal
WHOEVER thought it would ever happen? Govinda has developed a craze for good clothes. And by good, Imean really good, cool, coordinated and groomed.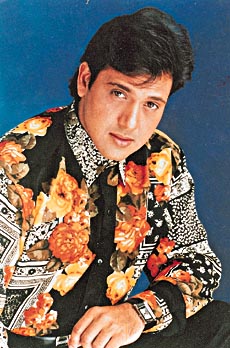 One could espy traces of it in a couple of scenes in some films last year too, but they were ploughed under the totally garish ensembles he was sporting in film after film, function after function. Our entertainer no. 1 seemed to be having a long and torrid affair with all the hues of the rainbow.
But today it's a different scenario. For not only is Govinda wearing all kinds of happening clothes, he's got a shorter haircut to offset his new leaner look. So, it's like a makeover with a dash of attitude thrown in to complete the new avatar!
Check out Haseena Maan Jayegi, Hum Tumpe Marte Hain, Tumhare Liye...
The new man in Nagma's life
Nagma's returned to Mumbai after more than a decade of acting and alliances down South. What brings her back to the land of Hindi films is not her "love for the city" as she would like us to believe, but a certain light-eyed film personality. No guys, it's not Chimpu Kapoor — that chapter was over long ago. The new man in Nagma's life is producer Nitin Manmohan!
Not only is she acting in his on-the-floors Salman Khan starrer, Chal Mere Bhai, but she is also playing the lead in his next film. That's what I call a real convenient affair — where the heart and the bank balance are both satisfied.
Film-makers' fundas
Really, our film-makers never fail to shock me. I mean, while (Sanjay Leela Bhansali has added another song, as if these weren't enough already) Chand Chupa Badal Mein in his hit film Hum Dil De Chuke Sanam, Subhash Ghai has snipped 400 feet of precious celluloid footage from Taal.
All for the eventual "benefit" of their films, they claim. But what I fail to understand, isn't the benefit of the film the first criterion to be considered, rather than an afterthought. After all, we are talking of seasoned film-makers here, not green horns.
A director makes his debut
Speaking of green horns, a new young film-maker is all geared to make his debut. He is none other than Farhan Akhtar, son of Javed Akhtar (and ex-wife Honey Irani). For his maiden venture, Farhan's opted for the ever-dependable Aamir Khan. The not-so-dependable Akshaye Khanna and the only-at-times-dependable Saif Ali Khan.
With all the right genes behind him — remember amma Honey is also a script writer — the debutante director cannot help but strike the correct chord.
Raveena on a high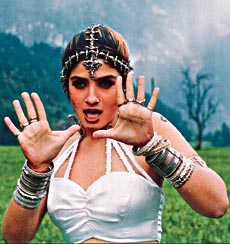 Raveena Tandon's on a high these days. Her forthcoming film Shool is carrying excellent reports and the lions share of kudos are all for Raveena.
The last time Ravs appeared in a deglamorised role was in Ghulam-E-Mustafa and it was superb. The woman could really act! What is difficult to comprehend is why one has to go sans make-up, sans designer dresses or sans glitz of any kind, to prove one's credentials as an actress. Does the greasepaint somehow cramp one's talent?
Sochne waali baat hai!



This feature was published on September 12, 1999