The master of melodrama
By Abhilaksh Likhi
THE genre of spectacular melodramas is an inalienable part of popular Indian cinema. Magnificence and grandeur in film style may have originally evolved with Hollywood cinema. But its impact in shaping the cinematic vision of many successful Indian film-makers has been tremendous. In the context of our sociocultural milieu, themes may have ranged from costume dramas, historicals, to socials but "thinking spectacular" has enabled many film directors to fashion a treatment of epic proportions that has always attracted the audience in large numbers.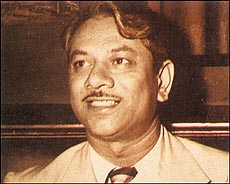 This is however not to deny the Indian film-maker's core resilience in exploring and expressing dramatic moments, intimate emotions and morality concerns with a life like conviction on huge canvases. While Raj Kapoor highlighted the magnificence of the musical melodrama others like K.Asif and Kamaal Amrohi fathomed the emotional sweep of Muslim historicals. A more contemporary film-maker, Subhash Ghai has proved to be a showman extraordinaire in achieving a dramatic crescendo in themes relating to valour, revenge and the anti-hero.
In the above context, one film-maker whose name readily springs to mind for having drawn the contours of spectacular melodramas way back in the 1930s is Mehboob Khan — a man who rose from the position of an extra to that of a film-maker and was passionately moved and inspired by Hollywood films.
Blessed with the ability to dramatise a film's screenplay by using imagination, perception and understanding of characters, Mehboob Khan consistently developed a style that was immensely enriched by a lavish, glossy and beautifully mounted decor. This is evident in all his films from "Judgement of Allah" (1935) to Son of India (1962).
His very first directorial effort Judgement of Allah was a costume melodrama. The film was notable for frequent changes in camera setups. Scenes of assort duration which could easily be canned in a single shot were divided into several shots mostly with tight close ups. More importantly, the film delineated Mehboob's penchant for the dynamics of editing—a technique so crucial for unfolding an engrossing narrative.
This was followed by Manmohan (1936) a film that belonged to the socio-musical genre of mainstream cinema. The story of a painter frustrated in love becoming an alcoholic was a thinly disguised rehash of Devdas released a year before. What was exceptional was that it was treated in a lively, youthful style with catchy and melodious songs. It had the sheen and gloss quite similar to the Hollywood films of the same era.
Interestingly, Hollywood's stronginfluence on Mehboob came across strongly in Jagirdar (1937). The film was a murder mystery modelled on the pattern of Hitchcock's movies. Both its protagonists were made to wear long black overcoats with felt hats. However, ridiculous it may have seemed then, it provided the necessary thrilling aura to the mystery motif in the film.
Consolidating his position as a film-maker who could set the cash register ringing Mehboob Khan directed Hum Tum Aur Woh (1938), a romantic quadrangle with two girls in love with the same man and eventually the rejected girl finding solace in another protagonist's company. The film in many ways was a precursor to later spectacular romances like Sangam' Kabhie Kabhie and the latest blockbuster Kuch Kuch Hota Hai. With Aurat (1941), the saga of a suffering Indian woman, Mehboob Khan crossed the threshold of yet another dramatically important phase.
Aurat was noteworthy for its portrayal of the spirit of resilience at the grassroots level. The village moneylender, for instance, became the symbol of ill-gotten wealth and exploitation of poor villagers. He was also a symbolic target of revenge for the simpleton turned dacoit, Birju. It also effectively demonstrated Mehboob's ability to display myriad moods ranging from prosperity to poverty, from rich harvests to famines and also the innate goodness of villagers. Eleven melodious songs, transformed an otherwise realistic story into an entertaining film.
Mehboob had by the mid 40s earned the reputation of a showman who planned his production himself and went through the minutest details of decor, scenario, sequences, dialogues, tunes, diction, delivery of speech and costumes before he actually started shooting. This was perhaps the reason for his vast cinematic films like Roti, Najma, Taqdeer, Huymayun and Anmol Ghadi were sensitive, and charming portrayals of the plush, cloistered world of aristocracy even while being visually appealing. Anmol Ghadi (1946) had a romantic theme with plenty of scope for music. Soothing and melodious compositions like Jawan Hai Mohabat, Haseen Hai Zamana rendered by Noorjehan are fondly remembered even today. More pertinently Anmol Ghadi, confirmed Mehboob Khan's position at the very pinnacle of fame and popularity.
But despite a growing stature of iconic dimensions, his style and treatment never conformed to repetitive thematic motifs. Andaz (1949) was a blockbuster that dealt with a contemporary theme-youth, its yearnings and the danger of aping western values. It was in Andaz that the narrative logic explored the depths of the human heart and its complexities. Tu Kahe Agar was not just a song for the youth of the mid 40s but a reflection of the sentiments and behaviour patterns of a generation in the throes of change. With Aan (1952), Mehboob's first colour spectacle, the nuances of adventure and romance in a mythical kingdom were explored in the style of Ben-Hur. With enormous and expensive sets and painstakingly shot compositions, Mehboob wove a melodrama that was magical enough to draw the audiences both in India and abroad. A film that perhaps inspired Manmohan Desai to make the all-time blockbuster Dharamveer in the same style and genre.
Mehboob Khan, then, in the real sense set the tradition of the grand motion picture that encompassed drama, humour, music and suspense with a midas touch. He wanted to make his films after the style of Hollywood movie moguls of the 30s, 40s and 50s — beautifully mounted dramas based on subjects with which the audience identified itself. Who wouldn't agree that Mother India (1957) is one of the all-time classics of Indian cinema. The emotional sweep of its theme, the magnificence of its rich colours and the intense performances of its pivotal characters won it an Oscar certificate for the best foreign language film.
The success of films like Titanic proves beyond a doubt the popularity of spectacularly mounted melodramas amongst the Indian audience. It is also a pointer to the bright future of popular Indian cinema as it absorbs new technology, searches for creative alternatives and expands its audiences at the dawn of the new millennium.