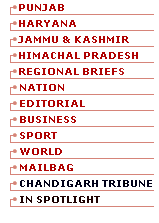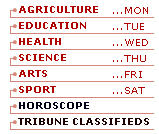 Saturday, January 1, 2000, Chandigarh, India

Jaswant brings hostages home
Emotional scenes of reunion at airport
NEW DELHI, Dec 31 — The country's longest aircraft hijack ordeal ended today with the 154 hostages plus crew of the Indian Airlines IC-814 aircraft returning home after eight days — hours away from the new millennium.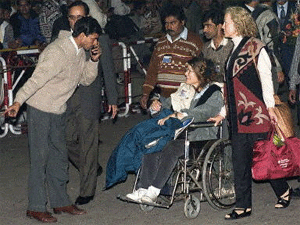 French hostage Francoise Vougla (in wheelchair), accompanied by an unidentified woman (not a hostage), arrives at New Delhi's international airport 31 December 1999, after spending eight days in the hijacked Indian Airlines plane in Afghanistan. — AFP photo
SPECIAL EDITORIAL
Thank God, but questions remain
by Hari Jaisingh
The Vajpayee government has come out of one of its worst crises, but not without paying a heavy price. Notwithstanding the serious reservations expressed by Jammu and Kashmir Chief Minister Farooq Abdullah and several experts on the release of the Pakistani cleric, Maulana Masood Azhar, and other militants, the people, by and large, may take a generous view of the concessions extracted by the hijackers under extraordinary circumstances.
Freedom after 8 days of agony
KANDAHAR, Dec 31 — All hostages on Indian Airlines IC-814 walked to freedom today in an apparently peaceful end to their ordeal after India agreed to free three Kashmiri militants.
PM defends release of 3 militants
NEW DELHI, Dec 31 — Prime Minister Atal Behari Vajpayee tonight defended the release of three militants in exchange for 155 hostages of the hijacked Indian Airlines aircraft saying that the government was able to "substantially scale down their demand".
Hijackers head for Pak
KANDAHAR, Dec 31 — A decision has been made on the future of the hijackers of the Indian Airlines jet after talks here today with External Affairs Minister Jaswant Singh, officials said in Kandahar.
Punjab Ministry expanded
CHANDIGARH, Dec 31 — The strength of the Punjab Council of Ministers rose to 41 with the induction of 15 new members here today.
In the much-awaited expansion, Mr Parkash Singh Badal has elevated 10 Ministers of State to Cabinet rank and added five new ones, namely Mr Adesh Partap Singh, Dr Baldev Raj Chawla, Mr Natha Singh Dalam, Mrs S.K. Sandhu and Mr J.S. Garcha.
CAST YOUR VOTE
Did India do the right thing by exchanging militants for hostages?