Saturday, January 1, 2000,
Chandigarh, India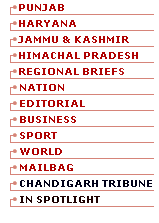 S P O T L I G H T
World's oldest person dead
HARRISBURG (USA), December 31 (API) — Sarah Knauss, listed in The Guinness Book of World Records as the world's oldest person, has died at the age of 119, according to a spokeswoman at the Allentown nursing home where she lived. Knauss, who was 28 when Henry Ford introduced the Model T in 1908, apparently died of natural causes.
8 killed in clash with police
BERHAMPUR, December 31 (PTI) — At least eight persons were killed and 15 others were injured in Thursday's clash between tribesmen and the police at Majhiguda village in Orissa's Gajapati district, official sources said on Friday. Seven persons were killed when the police opened fire to disperse a mob of tribesmen, armed with country-made fire arms, bows and arrows, that overran a police camp in the village, the sources said, adding that another vicitm was a Scheduled Caste member who was allegedly killed by the tribesmen over a land dispute.
Jat-Sikhs stage dharna
SRIGANGANAGAR, December 31 (FOC) — Demanding their inclusion in the Other Backward Castes (OBC) category, hundreds of Jat-Sikhs staged a dharna on Thursday in front of the District Collector's office here. The protesters were agitating under the aegis of the Jat-Sikh Sangharsh Samiti. Mr Surinder Pal Singh of the samiti said the agitation would be intensified in case the state government did not accede to the demand. After granting OBC status to the Jat community in Rajasthan early this year, Jat-Sikhs, who constitute 25 to 30 per cent of the population in Sriganganagar and Hanumangarh districts, are also demanding reservation.