Sunday, January 2, 2000,
Chandigarh, India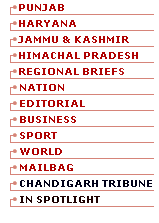 S P O T L I G H T
62 killed in Sri Lanka
COLOMBO, Jan 1 (PTI) — Fierce fighting continued between government troops and rebel LTTE Tigers on the millennium eve in Sri Lanka in which eight soldiers and 54 rebels were killed, a defence press note said here today. The LTTE guerrillas continued their offensive at Elephant Pass army garrison near Jaffna from both land and sea in an attempt to encircle it, it said. The air force deployed helicopter gunships to repulse a concerted LTTE attack by sea in which six to eight rebel boats attempted to land near Elephant Pass, killing 30 rebels.
18 more in caste list
JAIPUR, Jan 1 (UNI) — The Rajasthan Cabinet today approved the inclusion of 18 more castes in the list of Backward Classes as per the recommendations of the Rajasthan State Backward Class Commission. However, the Cabinet rejected the recommendation for classifying these castes in 'A' and 'B' groups and returned it to the commission for reconsideration, Chief Minister Ashok Kumar Gehlot told reporters after a Cabinet meeting.
Bhaskar Bhattacharji
NEW DELHI, Jan 1 (UNI) — Well-known television personality and senior UNICEF official Bhaskar Bhattacharji died here this afternoon. He was 42 and is survived by his wife. It is understood that Bhattacharji had been feeling depressed for sometime and committed suicide by jumping off a five star hotel. He had recently joined as Chief Advocacy and Information Officer with the UNICEF. Before that, Bhattacharji had worked as a Chief Public Relations Officer for the United Nations Development Programme.