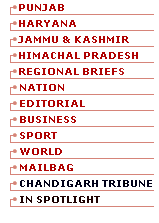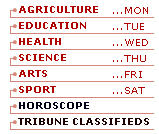 Monday, January 3, 2000, Chandigarh, India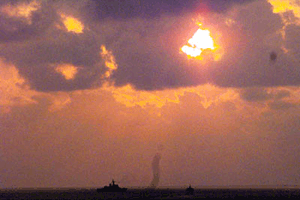 The sun plays hide and seek at dawn at the turn of the millennium. This photo was taken from aboard "Swaraj Dweep," off Katchal Island, on New Year's Day. — Tribune photo by Gautam Singh
Hijackers cross over to Pak
Opt for Chaman border post
ISLAMABAD, Jan 2 — The five hijackers of an Indian Airlines plane, who were given a 10-hour deadline by the Taliban to get out of Afghanistan, are believed to have crossed into Pakistan from the border outpost of Chaman, a busy crossing on the international divide between the two Islamic countries.
'Burger' was emotional
NEW DELHI, Jan 2 — "Chief", "Burger", "Doctor", "Bhola" and "Shankar" filled terror in the minds of hostages, cajoled some of them into believing they were actually nice persons and left the plane saying there was a possibility they would meet the passengers again — shades of the Stockholm syndrome. But what was clear was that the 155 persons held prisoners feared death at every stage.
Proof of Pak hand: Mishra
NEW DELHI, Jan 2 — National Security Adviser Brajesh Mishra today said there was "enough and clear" evidence to suggest that Pakistan was involved in the hijacking of the Indian Airlines aircraft and ruled out the possibility of the Taliban having provided arms to the hijackers in Kandahar.
Pak shelling in Uri
SRINAGAR, Jan 2 — Pakistani troops resorted to unprovoked shelling from across the border in Uri and Karnah sectors since last evening while a ruling National Conference leader was shot at and wounded by militants at Charar-e-Sharief.
Six children among 10 killed in fire
NEW DELHI, Jan 2 — Ten persons, including two women and six children, died in a fire which broke out in an electrical goods shop at Khureji in East Delhi early this morning.
Write-up sparks violence in B'lore
BANGALORE, Jan 2 — The police lobbed teargas shells and charged with batons at a 300-strong mob belonging to a minority community which turned violent today protesting against an article in a newspaper that allegedly hurt their religious sentiments.
Birdevinder threatens to quit
PATIALA, Jan 2 — Precipitating dissidence in the pradesh Congress, its General Secretary Birdevinder Singh today said he would resign from his post if the PPCC chief, Capt Amarinder Singh, submitted a memorandum demanding the imposition of financial emergency in Punjab to the President again.
Avalanche warning 5 days in advance
SASE project for upper air observatories
CHANDIGARH, Jan 2 — To augment the weather forecast capability for fulfilling the Army's strategic requirements regarding high-altitude operations, the Snow and Avalanche Studies Establishment (SASE) has embarked on a programme to establish a number of upper air observatories along with surface observatories along the Himalayan frontier.
EARLIER STORIES
(links open in new windows)
CAST YOUR VOTE
Did India do the right thing by exchanging militants for hostages?