Monday, January 3, 2000,
Chandigarh, India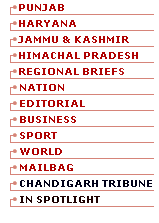 S P O T L I G H T
Ultras blow up ONGC pipeline
GUWAHATI, jan2 (PTI) — Seven persons have been picked up for interrogation today after ULFA militants blew up the ONGC pipeline in upper Assam's Sibsagar district late last night causing fire and some oil spill. According to Sibsagar Deputy Commissioner L.N. Tamuly, oil supply through the line has been restored in the evening. The total monetary loss suffered by the ONGC due to the blast has been estimated to be around Rs 5 lakh. The ULFA militants exploded the exposed 20 feet portion of the pipeline with a powerful bomb near the bridge of the Disang river under Kakotibari police station.
2 gunned down
NAWADAH (Bihar), Jan 2 (PTI) — Armed men have shot dead two persons at Thalposh village in Nalanda district, the police said today. The gun-totting gang raided the village yesterday and kidnapped five persons working in a field. They later released three persons while killing two. The bodies of the two were later recovered by the police from a sugarcane field. Old enmity was stated to be the reason for the crime.
RJD leaders clash
GAYA (Bihar), Jan 2 (PTI) — Panic gripped the town as supporters of two RJD leaders exchanged fire for about an hour here, forcing the police to seize the firearms provided to the security guards of the leaders, Deputy Superintendent of Police Ranjit Kumar said. He said supporters of RJD leader and former Bihar Minister Surendra Yadav and those of sitting RJD MLA Mahesh Yadav clashed at the heart of the town in the morning. None was, however, injured.