Tuesday, January 4, 2000,
Chandigarh, India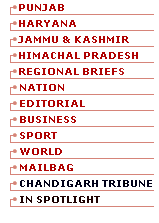 S P O T L I G H T
3 MLAs issued notices
IMPHAL, Jan 3 (PTI) — The Speaker of the Manipur Assembly has issued show-cause notices to three legislators, who had recently quit the Congress and joined the ruling Manipur State Congress Party, on why they should not be disqualified under constitutional provisions, sources in the secretariat said today. The notices were served on MLAs Helaludin Khan, M. Horam and Hangkhanpao after receiving applications from some Congress members for their disqualification under the 10th Schedule of the Constitution, the sources said.
Sharma's ashes
HARIDWAR, Jan 3 (PTI) — The ashes of former President Shankar Dayal Sharma were immersed in the Ganga amid the chanting of vedic hymns here today. The rites were performed by the late President's son, Ashutosh, in the presence of eminent citizens and senior officials.
Air services resume
NEW DELHI, Jan 3 (PTI) — Air services at the Capital's Indira Gandhi International (IGI) airport, which came to a grinding halt last night due to dense fog, resumed today as visibility improved. The first incoming flight landed at 11.04 a.m. while the first flight could take off only at 11.40 a.m., airport sources said.
Naxal attack
HYDERABAD, Jan 3 (PTI) — The house of former Andhra Pradesh legislator Lakshmikantha Rao, a relative of former Prime Minister P.V. Narasimha Rao, was blown off by Naxalites of the banned People's War Group (PWG) at Husnabad town in Karimnagar district yesterday. The Naxals reached the house where classes were being conducted and asked the staff to move out before blasting it off with detonators, the police said here today. However, none was injured.
New British diplomat
DHAKA, Jan 3 (AFP) — British diplomat David Carter, a former deputy head of mission in India, has been named Britain's new High Commissioner to Bangladesh, officials said today. Mr Carter, who is due to arrive in Dhaka on January 19, will replace David Walker, who will leave later this week after three years in Bangladesh, a British Commission statement said.
Bangalore peaceful
BANGALORE, Jan 3 (UNI) — The situation in and around an English newspaper office in the city, which was attacked by members of a particular community yesterday, was peaceful. The police had resorted to bursting of teargas shells and lathi-charge yesterday when a 600-strong mob set fire to a truck carrying newsprint and indulged in stone throwing at two newspaper establishments in protest against the publication of an article in The New Indian Express and demanded an unconditional apology from the newspaper.
Flight cancelled
NEW DELHI, Jan 3 (UNI) — The Jet Airways had to cancel its Delhi-Jammu flight today because of a bomb hoax. As the passengers were boarding the plane at around 2.20 pm, the airline received a call saying that there was a bomb on board. Anti-sabotage checks that were carried out found that the call was a hoax. The much delayed flight, however, had to be cancelled because of the restrictions imposed on operations out of Jammu airfield after sunset, a press note said.