Wednesday, January 5, 2000,
Chandigarh, India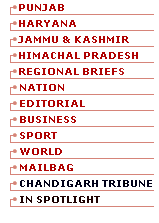 S P O T L I G H T
Freed hijacker reaches PoK
MUZAFFARABAD (PoK), Jan 4 (AFP) — A terrorist freed last week by India in a deal with the hijackers of an Indian Airlines plane arrived in Pakistan occupied Kashmir (PoK) late today, witnesses said. Mushtaq Ahmad Zargar was given a warm welcome by members of his guerrilla group, Al-Umar Mujahideen, in the state capital Muzaffarabad, they said. Welcome banners were put up at several points in Muzaffarabad ahead of the arrival of Zargar, the founder of Al-Umar Muajahideen, a terrorist group.
Democrats win
ZAGRAB, Jan 4 (Reuters) — Croatia's Centre-Left Opposition has won a stunning general election victory over late President Franjo Tudjman's nationalist HDZ party, raising hopes this will boost democracy and move the country closer to the West. With 84 per cent of yesterday's vote counted by this morning, the main opposition bloc formed by the Social Democrats, led by former Communist Party boss Ivica Racan, and the Social Liberals was in a clear lead in eight out of 10 multi-member constituencies.
Haryana holiday
CHANDIGARH, Jan 4 (TNS)— The Haryana Government has declared January 5 as a public holiday in the state within the meaning of Section 25 of the Negotiable Instruments Act, 1881, on account of the birthday of Guru Gobind Singh. The Governor, Mr Mahabir Prasad, and the Chief Minister, Mr Om Prakash Chautala, have appealed to the people to rise above narrow considerations of caste and colour and join hands to maintain communal amity to strengthen the cultural fibre of the country.