Friday, January 7, 2000,
Chandigarh, India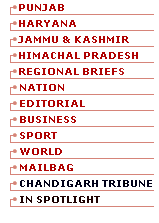 S P O T L I G H T
Sajjan Kumar acquitted
NEW DELHI, Jan 6 (PTI) — A Delhi court today acquitted Congress leader Sajjan Kumar and a former city councillor in a 1984 anti-Sikh riot case saying that the prosecution failed to adduce sufficient evidence against them. Additional Sessions Jude R.C. Yaduvashi in his judgement said the prosecution could not produce sufficient evidence against Sajjan Kumar and former Municipal Councillor Ishwar Singh in the case.
Bail plea rejected
NEW DELHI, Jan 6 (PTI) — A Delhi court today dismissed the bail application of former Enforcement Directorate Deputy Director Ashok Aggarwal, who was arrested by the CBI recently for allegedly misusing his official position. Special Judge Ajit Bharihoke rejected the bail plea of Aggarwal, accused by the investigating agency of bribery, extortion, forgery and wrongful confinement of some persons.
Pak diplomat
KATHMANDU, Jan 6 (AFP) — Wasim Saboor, a junior Pakistani diplomat, who was ordered out of Nepal on charges of running a fake currency racket, left today for Karachi, airport officials said here. Saboor was arrested earlier this week while allegedly negotiating to sell fake Indian currency amounting to Rs 50,000 to an undercover agent, the police said. The Nepalese Foreign Ministry ordered him to leave within 72 hours with effect from Wednesday afternoon.
6 ambushed in Imphal
IMPHAL, Jan 6 (UNI) — At least six Assam Rifles personnel were killed and eight others injured in an ambush by militants at Lamlai in Imphal East this evening. The police said a convoy of security forces was ambushed enroute to Imphal from Ukhrul district on the Ukhrul-Imphal road. The ambush comes in the wake of the ongoing North-East tour of Chief of Army Staff V.P. Malik.
Swarnajayanti awards
NEW DELHI, Jan 6 (PTI) — Prime Minister Atal Behari Vajpayee today announced the setting up of the fund for Improvement of Science and Technology Infrastructure', (FIST) in universities and other higher educational institutions to improve the inadequate infrastructure for basic research in higher education institutions, while giving away the Swarnajayanti Fellowships for Young scientists, 1998-99, to six scientists at his residence here.
9 cops killed
KATHMANDU, Jan 6 (AFP) — Maoist guerrillas in Nepal have killed nine policemen and beaten 10 others captured during an attack on a police post in Jumla district, the police said today. Some 60 guerrillas attacked the post in Rarali village where the police, including the officer-in-charge, surrendered after a short gunbattle on Monday, Deputy Inspector-General of Police Rajendra Bahadur Singh said.