Saturday, January 8, 2000,
Chandigarh, India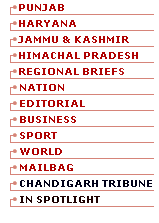 M A I N N E W S
Plot to kill Badal, others foiled
Tribune News Service
BATHINDA, Jan 7 —The police has foiled an attempt to kill the Punjab Chief Minister, Mr Parkash Singh Badal, certain other key political leaders and a retired police officer with the arrest of a human bomb identified as Jarnail Singh, a resident of Roadanwali village in Muktsar district.
Jarnail Singh is one of the four human bombs who have entered India after getting training in Pakistan.
The police team comprising Mr Jaspreet Sidhu, DSP, Mr Bhupinder Singh, Mr Jarnail Singh, Mr Dinesh Kumar, Mr Rajinder Kumar, Mr U.C. Chawla and Mr Baldev Singh, non-gazetted officers, and sepoy Mr Gurbhajan Singh, arrested Jarnail Singh from Jaipur.
On the information provided by Jarnail Singh, the police had recovered one AK-56 assault rifle, one telescope, three magazines 80 cartridges, 5 kg of RDX, batteries, day-night switch, time pencils, ABCD switches, cordex wire white, safety fuse, two grenades, four pressure release switches, four non-electronic detonators, three electronic detonators and one frequency receiver.
Jarnail Singh, a school dropout became a human bomb at the instance of Didar Singh alias Dari another terrorist based in Pakistan for Rs 15,000 and underwent training in the handling of arms and ammunition for two months in a camp along with 10 others near Lahore.
He was to carry out killings on the occasion of Maghi mela.
The SSP, Mr Jatinder Kumar Jain, while addressing a press conference here today said that Jarnail Singh went to Pakistan through the Jammu border in February 1999, and returned after getting two-month training in the handling of explosives and a list of prospective victims. All those who were to be targeted by Jarnail Singh have been identified. Jarnail Singh used the riverine area of the Ferozepore border to enter into India. Jarnail Singh, who was paid Rs 15,000 by the Babbar Khalsa International (BKI) chief Wadhawa Singh was evading arrest by shifting his hideouts frequently. His hideouts included some 'deras' also.
The task given to Jarnail Singh was to carry out bomb explosions in big cities, and blast vital installations.
Mr Jain said out of 11 persons trained in a camp in Lahore, six had entered India. Out of six, three had been arrested so far. The other two who had been arrested were identified as Manjit Singh and Amrik Singh. Three other human bombs were yet to be arrested, he added.
The SSP said the arms, ammunition and explosives were found buried at a deserted place.
Jarnail Singh, when produced before the mediapersons, said he was repentant and alleged that certain persons were trying to force innocent youths into terrorist and anti-national activities.